Music Reviews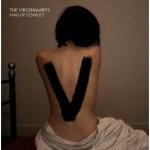 The Virginmarys King Of Conflict
(Wind Up Records)
Buy it from Insound

Let's face it. Everyone has a soft spot of some sort for pure, raw, unadulterated rock 'n' roll. A relentless cascade of pile-driven riffs racing urgent rhythm sections to an imaginary finish line can arouse the Rock God in us all, and ultimately turn your bad day into a better one. With the arrival on the scene of Macclesfield 3-piece The Virginmarys, rock 'n' roll purists can rest assured that 2013 is in good hands. King of Conflict encompasses the above with utmost authenticity, steamrolling a myriad of radio friendly energy into a very encouraging debut effort, channeling the vestiges of everything from the patented grooves of Zeppelin to the candid lyricism and grit of The Arctic Monkeys along the way.
The first thing that alarms me about this band is that it's taken so long for them to score a record deal. Since the bands' inception in 2006, it has taken a series of self-released EPs and multiple tours with household names, including Ash, Feeder, Eagles of Death Metal and Slash, before finally gaining the label backing to release their debut-full length. Listen to the end result, King of Conflict, and it doesn't take much time for you to start wondering why this has indeed taken so long.
The album doesn't pretend to be something it's not. It doesn't delve very far into the depths of the annuls of rock that have preceded it; it merely scratches the surface, keeping its focus firmly on the undiluted, no holds barred, in your face attitude that frontman Ally Dickaty spearheads with aplomb. This is, however, exactly why this album works. In tone with the ethos of King of Conflict, the record explodes out of the blocks with Dead Man's Shoes, a fast-paced attention seeker with a chug as catchy as a baseball mit. With the scene aptly set by the bookend track, a precession of proverbial shots of devilish liquor continue to give your eardrums a methodical beating, with the ruthless façade refined enough to keep the onslaught of rock 'n' roll accessible throughout. Splashes of blues-rock and more melodic fragments compliment the aggression admirably, keeping the sound fresh from start to finish, and maintaining the happy medium between pop and refined alternative rock.
With regards to the tracks themselves, the highlights are conveniently situated throughout to ensure you will see the album through. Portrait of Red follows an infectiously melodic pre-chorus, with Dickaty desperately pleading, baby treat my body like a canvas, a line that will undoubtedly be bellowed in unison by numerous festival fields this coming summer. Kerrang! friendly Just a Ride paves way for the first shades of blue to bleed from King of Conflict, with Out of Mind using out a Rolling Stones-esque groove to lay the foundation for an attitude-ridden, typically big chorus. Hey, Dickaty even says a naughty word in this one!
There is no doubt that King of Conflict possesses a swagger that will endear it to a lot of people. The unmistakably northern vocals of Dickaty are ideal for the gutsy, defiant choruses that are a mainstay of the record, whilst the rhythm section of Matt Rose and Danny Dolan provide a watertight backdrop for the torrent of fresh riffs that The Virginmarys are certainly not short of. A balance of urgency and restraint is the focal point of highlight Bang Bang Baby, - with take that gun girl and blow mind - providing sincerity to the restraint, forcing the track home before another riff is detonated by Dickaty.
Arguably the main attraction of the record, however, is Dressed to Kill. A candid guitar intro is garnished perfectly by another desperate, gritty display of lyricism before full frontal riffs are accompanied by vocals of pure defiance. This is perhaps the most evident sign that these boys are writing songs that they mean, and the fact that they, in the most part, inevitably culminate into shots of tranquilizing rock 'n' roll, is testament to the promise this debut album shows. This is true right up to the close of King of Conflict, with second bookend track Ends Don't Mend offering one last dose of defiance to retaliate to another brooding opening. This track is brought to the brink and back again with the help of a plethora of guitar solos and marauding rhythm, making it the perfect closer to a very well balanced album.
King of Conflict is certainly a solid debut effort, characterized by urgent vocals, gutsy choruses, and a raw energy that is refined enough to make the album accessible to a wide range of rock fans. I have heard some people tout this album as grunge, but it's definitely not. It's much cleaner and has a distinctly more modern edge to anything grunge. Instead, I prefer to summarize this record as raw, easily accessed rock 'n' roll, thoroughly guitar driven, with a watertight rhythm section to boot. A good start from the boys from Macclesfield, and one thing's for sure… this lot are taylor-made for festivals.
15 February, 2013 - 04:18 — Carl Purvis