Music Reviews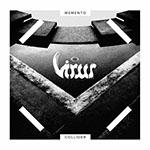 Virus Memento Collider
(Karisma Records)

The sinister air and theatrical charge of Norway's Virus reached my ears a few years ago via 2011's The Agent that Shapes the Desert, the group's third LP. The band's combination of overt vocal camp and a seeming adulation of post-punk's necessary recalculation of how guitars should sound offered much to ponder. And then that rhythm section: a strong and idiosyncratic near-funk propulsion sharpening the various edges of each song. Virus is what would likely have resulted had the late Rowland S. Howard subsisted on nothing but black metal, Link Wray, and Scott Walker. Sound cool? It is.
Virus has released a follow-up to Agent called Memento Collider, a six-track return following five years of silence. That album's longest offering, Afield, occurs right at the beginning. The guitar sounds are expectedly icy and splintered; the low end and drummed groove still prominent. And vocalist/guitarist Carl "Czral" Michael Eid still performs his dramatic narratives with a cadence that evokes campfire tales or a B-movie voice-over, an expressive tone that at times passes for an almost croon. Czral's guitars phrases glaze the track's disco propulsive swing, his strummed melodies delivered in threes and rarely allowed to stray from his minimalist design.
While Afield grants some assurance that Virus still owns its sound, there is a conservatism to Memento Collider that becomes apparent with continued listens. Next to past releases, Memento Collider is reductive both in character and arrangement, the band's penchant for the deeply theatrical, their tricky rhythms, and unexpected musical turns comparably slight. Two of the album's most venturesome tracks, Rogue Fossil, with its rockabilly-tinged licks and appealingly tilted groove, and Steamer, a nearly 8-minute rush of circling bass melody and structural shifts, sound most realized in relation to the rest of the album. There's some rhythmic experimentation pursued with Dripping Into Orbit as well, but the track falters a bit after its initial promise of chugging aggression doesn't quite materialize.
That being said, though, there's still a sturdiness to Virus that persists, songs like Gravity Seeker pulling a trick or two from Mission of Burma and applying some eccentric touches for the ears to distill. And Phantom Oil Slick, introduced by an inebriated and loose stride that eventually gains some solid footing, gradually intensifies and closes the album out in a restless storm of percussive battery.
24 June, 2016 - 04:16 — Sean Caldwell