Music Reviews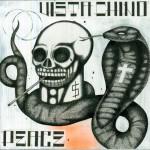 Vista Chino Peace
(Napalm Records)
Buy it from Insound

For those who aren't aware, Peace is the long awaited, second coming of Kyuss: without doubt one of the most important rock bands of the 90s. Kyuss more or less invented the desert/stoner rock scene by channeling Josh Homme's youthful, bass-driven fuzz through an excruciatingly sweltering blueprint. The unmistakably powerful southern snarl of John Garcia was downright oppressive, and an intense rhythm section boasted bass that could have been picked up by seismometers worldwide, and cymbal-rich drums that were as wild as the regions they were recorded in. Peace doesn't quite recreate the magic that we heard with Blues For The Red Sun or Welcome To Sky Valley, and although the rebirth of Kyuss as Vista Chino (via a Homme induced lawsuit that forbade them from using the Kyuss Lives! moniker they had initially coined in 2010) lacks the demiurgic aspects that alchemized the aggressive, toned down soundscapes 20 years ago, this new chapter is an exhibition, and a celebration of just how good this was.
This isn't to say that Peace isn't an excellent record in its own right. The fact of the matter is however, is that Vista Chino are Homme-less… Or maybe it's the fact that the rock music landscape has changed, as could be expected, dramatically over the past 2 decades. Homme has demonstrated since Kyuss' initial disbandment in 1995 that his creativity and acumen are without question, and although Bruno Fevery has managed to recreate the sunbaked desert tones of Homme's guitar work, and plays his part magnificently, you get the feeling his own artistry is constrained by the need to retain the Kyuss sound, very much like William DuVall's position in today's Alice in Chains. Although this Kyuss sound is definitely achieved, it turns the record into a homage to the original music 18 years on, as opposed to a fresh sound from what is effectively a debut album.
For die hard Kyuss fans, a couple of tracks of Peace will make you delve into the depths of your 90s records and bring out the likes of Welcome To Sky Valley for a long overdue listen. These people can be forgiven for this, as the band have undoubtedly wanted to keep this as 90s as possible and celebrate exactly this, with 3 members from their best times in their current ranks, and with no deviation at all from the original sound. Instantly with Peace, the anticipation-building Good Morning Wasteland will have the aforementioned fans salivating by the time Dargona Dragona pollutes the aural regions with a typically bass-fuzzed riff, before an avalanche of cymbals will have the superfan's face unfurling into a manic grin. Garcia's vocals are as strong and as distinctive as ever, and Brant Bjork has not missed a step behind the kit. The jazz-swing and unerring control over rhythms that threaten to run amok put you in mind of a tamer controlling a vicious monster, preventing a full-blown massacre in the process. They haven't missed a trick.
There are times where it becomes too copycat, and Vista Chino threaten to plagiarize themselves. For example, Planets 1 and 2 is Green Machine without the turbo injection it had back in 1992. However, there's still an awful lot here to enjoy. Adara showcases the bluesier, psychedelic side that the band threatened to experiment with in their final record, …And The Circus Leaves Town, while an interlude by the name of Mas Vino is the perfect prequel to the most prominent exhibition of Bjork's superb performance on the record. His jazz-swing is corrupting, and there is more evidence that the rebirth of Kyuss is still able to alchemize a very unique set of musical styles and egos into a sound that was only ever theirs. Barcelonian follows this, and is the exclamation mark to this point. It's insanely catchy, and shows just where Josh learned his trade. It's the most QOTSA-esque track on the record, and amalgamates the scintillating work of each member of Vista Chino into a devastating groove, emphasized further by a guilelessly sincere final third. Album closer Acidize…the Gambling Moose acts as a succinct evaluation of the band's work. Firstly, it's title shows that Garcia has not lost any of his sense of humour, and allows a 13-minute analysis of who Vista Chino are, recapping all of the styles touched upon in the past 20 years. The licks are jazzy, with shots of hugely heavy riffage, and an exhibition of Garcia's vocal styles and range to boot.
Ultimately, Peace is without doubt a telling tribute to the importance of the Kyuss-induced movement in the 90s, and a reminder as to why the band, and the resulting landscape, attained such critical acclaim and cult following. It celebrates this fittingly, but there isn't anything new with it. Nevertheless, it's flawless in composition. Brant Bjork's drumming is breathtaking, Garcia's vocals have never been stronger and Bruno Fevery has channeled Homme's Kyuss-era guitar work through his own amp with faultless impeccability, but you will get the impression his own work is on a leash. The name was never going to be important here. Peace was always going to be Kyuss's unofficial follow up to …And The Circus Leaves Town, and truth be told, some tracks from that album would not be out of place here, and vice versa. Peace is proof that these gentlemen have never missed a trick, but its insistence on celebrating the former haunts means that this will only act as a trigger to reach for the old hooks again, as opposed to racking up the play count on this record.
17 September, 2013 - 08:15 — Carl Purvis