Music Reviews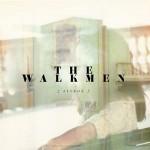 The Walkmen Lisbon
(Fat Possum)

I can still remember the first time I heard the Walkmen. It was 2002, a cold December's day as I recall, and the New York quintet were the main support act on Idlewild's UK tour. My good friend Peter Mattinson had travelled over to Sheffield to help me interview the headliners and cocky newcomers The Star Spangles, who were the opening act on the bill. The Walkmen were an unknown quantity to us at the time ("some band from New York, they're supposed to good") and our initial response was pretty lukewarm. Perhaps I should revise that - we thought they were shit. It's worth noting that both Peter and I were convinced that The Star Spangles were heading straight for the top. We all know what happened next - The Walkmen released an incendiary second album, Bows + Arrows, The Star Spangles disappeared into obscurity, and I patted my twenty year old self on the back for lazily neglecting to put my naive opinions into print.
(Side note: that whole day was a complete wash-out from a No Ripcord point of view. My dictaphone died halfway through a riveting Idlewild interview and I struggled to mask my incompetence while guitarist Rod Jones chatted away warmly, serving up quotes that stood no chance of making it beyond the four walls of the band's dressing room. I didn't have the heart to tell him we'd wasted his time.)
Eight years on, The Walkmen are one of the few bands from that era - and pretty much the only NYC band to emerge in those halcyon days of the early 00s - that I still follow closely. Unlike The Strokes, Interpol, and Yeah Yeah Yeahs, The Walkmen didn't lead with their strongest punch - they saved it for album number two. Bows + Arrows is still the essential Walkmen record - just as The Rat remains their defining anthem - but they've maintained an admirable level of consistency over the last six years, while subtly developing their sound.
Lisbon isn't remarkably different from 2008's You & Me in terms of style, and most of these songs could nestle snugly onto that record. Lapsed fans from the Bows + Arrows era will notice that the tempo has eased and the guitar sounds have lightened somewhat, which allows Hamilton Leithauser's raspy vocal more room to shine. On Lisbon, Leithauser's default delivery is a gentle croon - only occasionally, most memorably on Angela Surf City, does he break out his trademark scream to great effect.
While Angela Surf City and the horn-laden Stranded are the most likely tracks to capture your initial attention, Lisbon's strongest moments take a little longer to reveal their charms. Torch Song is my current favourite, partially because of its comically accurate title, which I can only assume was a working title/in joke that just stuck. The Walkmen don't always come across as particularly adventurous, but how many other indie-rock bands would have the audacity to record a harmony-drenched torch song in 2010? More to the point, how many could hope to pull it off as well as this?
Blue As Your Blood is another understated triumph. A simple guitar motif repeats for pretty much the entire song, its only company a sparse rhythm track, occasional strings, and a soulful Leithauser vocal. Woe Is Me combines a more intricate guitar riff with a shuffling beat. It's another highlight, but there's something a little disconcerting about the hushed verse that begins at around the 2:10 mark; as Hamilton Leithauser softly whispers "Now the street light bright and pale / As we sip our ginger ale" I'm reminded, strangely, of Vampire Weekend.
I'm not going to roll out the "strongest album since Bows + Arrows" cliche that's popped up in way too many Walkmen reviews from A Hundred Miles Off onwards. Lisbon is up to the band's usual high standards; if you've followed their career closely that's really all you need to know.
10 November, 2010 - 19:48 — David Coleman