Music Reviews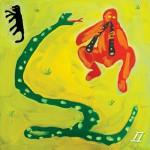 Wand 1000 Days
(Drag City)
Buy it from Insound

1000 Days is Wand's 3rd LP, and it's arrived just 13 months after their first. The enthusiasm and impulsion that has led to such a prolific output of albums is a trait that's mirrored in their music – a brand of garage and psychedelica that is progressive almost by accident, more of a symptom of their spontaneity rather than a conscious feature of their blueprint. Accidental or not, the progressive nature of Wand allow them to completely reshape their influences, mutating a wide range of resemblances into intriguing, rare entities.
Such energy and zeal makes for a record that is by no means an easy listen. In some cases, the dose of waspish synths and abundant ebullience is simply too much, and for want of a better word, irritating. Opening track Grave Robber is a fine example of this, giving a sugar-sweet garage track an overdose of fizzling electronics. There's an awful lot going on with Grave Robber, with a glistening façade canvassing a great deal of digital intricacy. In some cases, though, Wand gets the digital dose just right. Broken Sun is the sublime result of taking Pyramid Song, stripping it naked, and bugging it with psychedelic microchips.
Dovetail is the album's keystone – a 4-minute instrumental that builds on its own foundations. Again, the overenthusiasm and impulsive nature of Wand's work means that it's a track that never lives up to its potential. It's a track that you're expecting to expand into something incredible, but it doesn't fulfill its promise. With 1000 Days, Wand are like a Dalmatian with ADHD, overflowing with excitement one moment before discarding their object of interest and moving on to a new vice.
This impulsively progressive nature does however make for some seriously captivating cocktails. Paintings Are Dead is an end-to-end battle of bright, dawning acoustic guitars and steamrolling, heavyweight riffs. Title track 1000 Days boasts more sunny acoustics, and vestiges of John Lennon on a particularly spacey day. To close the track out, a ferociously fiddly acoustic riff is phased over a procession of digitized beats to see it through. It's these moments where the record is at its most captivating, throwing constant curveballs and thriving on its own unpredictability. For the red meat lovers, there are some hulking riffs in here, too. Dungeon Dropper pumps a bubblegum riff full of steroids and fuzz, and flexes its muscles proudly. Lower Order is another case of Wand stripping down a well-known track, pumping the brooding riff of Nirvana's You Know You're Right full of air and fuzzing it up beyond recognition.
Progressive music is never going to be for everybody, whether the progressive aspect is intentional or not. The unpredictability factor will cause some to turn to something easier on the ear, but if you were to persevere with 1000 Days, it's very likely that you would appreciate it. Wand affect the effects that affect the effects, and produce some beguiling work from some pretty haphazard recipes. It's an impulsively progressive garage record, and a reasonably well-organized mess. If Wand remain as enthusiastic and as prolific as they have been for the last year, we might even have another LP in the New Year.
13 October, 2015 - 04:19 — Carl Purvis