Music Reviews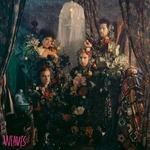 Weaves Weaves
(Kanine / Memphis Industries)
Buy it from Insound

Weaves don't feel like they need to explain their capricious behavior. The Toronto foursome write delightfully odd songs that spin in different directions, as if they're consciously shunning any inevitable post-punk comparisons in an attempt to justify their ingenuity. And most of the times it works - Weaves truly want to sound like themselves, and they do constantly surprise with a wealth of stylistic touches that prove there's an eclectic array of musicianship to be found beyond their gimcrack adornments. Even if we've seen a number of art rock bands come and go throughout the years, there's been a notable few who've been able to make a lasting impact (case in point: St. Vincent and Deerhoof) without surrendering to their artistic vision. Simply put: it takes great effort to keep things weird and novel, but Weaves are certainly up for the challenge.
They make a phenomenal first impression on album opener Tick, a zany power pop rocker that keeps a sunny disposition with a sugar-sweet bubblegum melody as it makes sense of its otherwise serrated guitars and plinking piano taps. Singer Jasmyn Burke is an essential part of the equation, a striking performer that seamlessly adapts to any clever quirk that comes her way. She's not afraid to break any singing conventions, whether she's babbling rhymes or vocalizing her internal thoughts in a conversational tone. But she's at her best when speak-singing her way through mounds of distortion, like in Candy, defiantly stating "walk over you" over a disjointed assemblage of belligerent riff flaunting.
Having the impetus to do so much, and with so many ideas that are constantly at play, does limit Weaves' ability to focus more on their songwriting. Two Oceans, for instance, is a constantly fascinating display of tight band dynamics that exhibits Burke's tempestuous lyrical smarts alongside a gritty, bluesy bent that accentuates her natural performing gifts even more. This one, in particular, reminded me of also-Canadian art rockers Shapes and Sizes, a sorely missed outfit that also shared a chemistry that was undeniable. Moreover, their breakneck pace does decrease in vigor as it rolls along, as songs like One More and Sentence emphasize tired noodling techniques alongside oft-repeated surfy guitar lines. Considering they put into effect so many madcap ideas, it's also rather disappointing when they closely emulate the surface-level virtues of St. Vincent on Birds & Bees and Eagle. You can hear Annie Clark's vocal mannerisms and snazzy freakouts with such an uncanny resemblance that it's immediately distracting.
Weaves have written a good debut record that is unafraid to take chances, and to an extent, it signifies a band that will only get hungrier with time. There's still in search mode, though, exceedingly pushing themselves to write clever pop songs that sometimes expose their calculated overconfidence. They're not in the business of writing songs that are arranged like tangram shapes, either, and the more structured rhythms of Weaves demonstrate that they operate with a clear center. Which is a wonderful asset to have; refining their technique and purpose could potentially make them unstoppable.
20 June, 2016 - 05:00 — Juan Edgardo Rodriguez