Music Reviews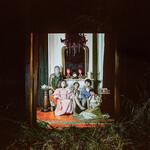 Wednesday Raw Saw God
(Dead Oceans)

Bands shouldn't be judged by their influences. That said, when Wednesday stepped into the arena of indie rock prestige following a promising debut LP with a covers album that named checked cult artists (Medicine, Chris Bell), Southern local heroes (Vic Chestnutt, Drive-by Truckers), and sensitive alt-rockers alike (Smashing Pumpkins), they gleefully expressed their reverence like the precocious musicians they are. Instead, they were on to something bigger: The Asheville, North Carolina five-piece was teasing what essentially became the sonic makeup of their multifaceted second effort, Raw Saw God.
Obvious references aside, Wednesday intends to capture everyday minutiae through the barren landscapes of rural America. On the one hand, their dreary, pedal steel-led ballads (Formula One) and intricate folk-rock (What's So Funny) stand on similar ground to contemporaries like Big Thief and Why Bonnie. On the other hand, their sweet-sounding yet vigorous guitar dynamics tap into '90s college rock with sharp mastery of the material (Got Shocked, Hot Rotten Grass Smell). The centerpiece here, the eight 1/2-minute Bull Believer, approaches tuneful dissonance steeped in sludgy reverb, building into a rousing finale centered around grief that cleverly interlocks theology and the video game Mortal Kombat with an exasperating cry: "Finish him."
And then there's the songwriter responsible for that blistering performance, Karly Hartzman, whose indelible tales of people living on the fringes of society resonate with a kind of ashy poetry. Compared to her bandmate MJ Lenderman, whose homespun debut wasn't as fully-formed, she propels an afflicted vocal delivery that offsets his ruminative alienation. Not everything works on Raw Saw God. The rootsy, Southern-fried Chosen to Believe sounds more Hootie than Doobie, though its meditation on love and acceptance saves its pop-leaning misdirection. It's a testament to Hartzman's nuanced lyrical bent, whose articulate observations are intriguing and even funny rather than affected.
21 April, 2023 - 04:15 — Juan Edgardo Rodriguez