Music Reviews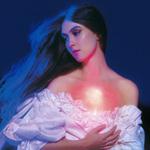 Weyes Blood And In The Darkness, Hearts Aglow
(Sub Pop)

If it seems a slight to view Weyes Blood's (aka Natalie Mering) 2019 album Titanic Rising (which was my album of the year way back then) as a mere work in progress compared to what she has accomplished on And In The Darkness, Hearts Aglow then so be it. Despite the majesty of that earlier moment, Mering's latest, with producer Jonathan Rado back at her side, is immediately recognizable as being lusher, grander, and bigger budgeted than her previous high water mark. At the risk of overstating the obvious, it's like comparing The Land of The Lost TV show with Jurassic Park for most realistic dinosaurs. In hindsight, Mering's vocals steered Titanic Rising's ship and here a myriad of musical contributors are finally able to meet her head-on.
Resplendent with strings, horns, organs, synths, and more, the album's first five songs are a masterclass in pop perfection. The opening track, It's Not Just Me, It's Everybody, starts simply enough with a laid-back 70's Laurel Canyon folkiness, but as with many of the tracks here, builds to something more glorious. This dynamic is most evident moving from the Sloop John B slap-back rhythms five minutes into Children of the Empire to the understated beginning of the following, Grapevine, which starts with a minor key melody reminiscent of the type Wilco's Jeff Tweedy comes up with in his sleep. But Grapevine swells to something bolder and full-on swingier than its humble enough beginnings as it rambles along a bygone California coastline where "they got James Dean."
Grapevine gives way to a song that, in title and execution, seems unlikely to pull off, but Mering does so with aplomb. God Turn Me Into a Flower feels every bit a heartfelt plea sung by, as one listening room passerby noted, a chorus of alien monks. The presumably terrestrial vocals belong to Mering and guest Ben Babbitt, set up against a swell of strings and layered synths at the hands of Mering and Oneohtrix Point Never (Daniel Lopatin) that take the melody to ever-escalating heights until it fractures into bird song. The song's tension had to break somehow, and handing something so grand over to the humblest of creatures is evidence of the abundance of creativity on display throughout the album.
But lest you think the best of And In The Darkness, Hearts Aglow has passed by at this point, the title referencing Hearts Aglow makes for the album's show-stopping moment. An embarrassment of guests appear here as part of a fourteen-piece ensemble—Hand Habits' Meg Duffy on guitar, Mary Lattimore on harp, The Lemon Twigs' kids on drums and organ, and Rado on bass. Hearts Aglow seems ripped straight from an intermission prelude to a Broadway musical. The type of thunderous march of a song that empowers revolutions, French or otherwise, or collective finger-snapping sing-alongs while in queue at the merch booth.

Though Hearts Aglow may make for the centerpiece of the album, not unlike Titanic's Movies, there are more rewards beyond the brief instrumental interlude that follows. Twin Flame is a sparer song than what precedes it, but its more electronic underpinning married up with Mering's lovely falsetto is nonetheless arresting. The folky The Worst Is Done is as disarmingly simple as its opening line: "It's been a long, strange year." And the closer, A Given Thing, makes for a solo voice and piano piece on par with any of Mering's forbears.
In a note to her fans, Mering has described And In The Darkness, Hearts Aglow as the center of a trilogy of albums. One that contends with being in "the thick of it." Whether the album's themes are apparent when awed by the sonics that surrounds them is likely of little matter to most listeners. Mering has concocted a successor to Titanic Rising that any gambler worth their salt would have no doubt taken the under on. That Mering topped her own prior masterwork is its own reward and one we are no doubt not worthy of. Daring to think of what might come next should be set aside while letting this one fully sink in.
15 November, 2022 - 04:58 — Mark Moody