Music Reviews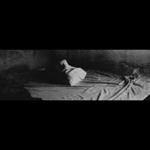 Whirr Around
(Graveface)
Buy it from Insound

San Francisco's Whirr are armed with a penchant for the melancholy. That's not to say it's a bad thing: the trepidatious musical styles of other acts in the genre is what Whirr stays away from; they push the envelope on something heavier and louder. Their new EP, Around, has all the emotive aspects of shoegaze mixed into a neat little package, with punching guitar sounds and big epic climaxes that give off a feeling of catharsis.
Aptly titled Drain begins the EP. It's easy for the listener to get lost inside of the sound; Nick Bassett (formerly of other California outfit Deafheaven) is able to craft guitar tonalities that are swaths of color. Big, moving guitar leads coupled with light black metal drum patterns give off raw emotional intensity -- it is here that Whirr perfects their sound, cranking up the volume to its highest point and infusing post-rock qualities to send the song off into the stratosphere. Shoegaze is meant to have spacey feelings attached to it, certainly, but Whirr takes things in a different direction seamlessly, not confining themselves as a simple Slowdive ripoff, instead opting for a sound that borders on the metallic and gritty. This kind of versatility adds to the scope of their ability; artfully crafted shoegaze with tinges of metal that segregates Whirr from the rest of the shoegaze revival pack.
Keep begins quietly; a calm before the storm. This airy atmosphere that Whirr so eloquently utilizes sounds fresh and full of life. The push-pull dichotomy between the light and simple and the deluge of heaviness that pours down is what makes the track be interesting. The San Francisco act isn't just loudrock for the sake of being loudrock; surely, shoegaze is meant to be played loud and envelop the listener in the waves upon waves of texture, but when Whirr slows things down to almost a crawl amidst the quietness, it paints a larger picture, one full of that bleakness shoegaze acts are known for. Coupling noise and layered guitars with soft vocal stylings, Keep contains those bursts of energy, exploding outward with these burgeoning guitar leads, carrying the track with upward momentum. The title track is a continuation of Keep; a slower, more airy palette being used for juxtaposition between the other louder and more intensity-driven tracks that precede it on Around.
Comparisons to other acts in this genre seem fruitless; any act can be tied to MBV and newer acts tend to gravitate around the aura that is Weekend, but Whirr crafts their own mold out of their influences, and, with an effort that feels grand and mesmerizing as it does dreary and bleak, Around hits the nail on the head and all those long lost sentiments of not having a shoegaze band to get behind seem to dissipate.
16 August, 2013 - 08:31 — Bill Haff