Music Reviews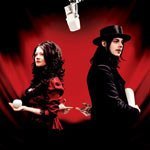 White Stripes Get Behind Me Satan
(XL)

I have to admit that I'm a little bit in awe of the White Stripes. I mean really, how do they do it? How does a drum and guitar duo, playing stripped down hard blues and metal Americana, get onto MTV in 2005? Yet there they are, pounding the skins and running the guitar through an Octavia on Blue Orchid, sandwiched in between Jessica Simpson and Missy Elliot. What do Meg and Jack have in common with these masters of modern pop, whether trite or heart-poundingly exciting (I'll let you figure out which one is which)? The answer that springs to my mind is as obvious as it is dubious. It is that the Stripes long ago figured out that they needed an image as striking as their music. Their discipline in reinforcing the red, white and black motif, along with their interest in arresting music videos have been effective at presenting a digestible package to music consumers. If this really explained their success, just think about what it would mean to the countless worthy artists toiling away in Indieland striving only for an 80 plus score on metacritic.com. Pick a unique image, reinforce it every chance you get, sell records; easy as pie.
As facile and unsatisfying as this analysis is, I think there just may be some truth to it. After all, the White Stripes catalog is not ear candy and the new record, Get Behind Me Satan, is no exception. The arrangements are stripped down to essentials, the riffs are ballsy in the best Zep tradition, and Jack pushes his wail to the breaking point. Just another White Stripes record? Yes and no. It looks like his experience working with Loretta Lynn has informed his writing. Not that Satan is a country record. But whereas Elephant sounded like American blues distilled through late 60's British acid rock, here Jack cuts out the middleman and makes a pure American rock record. On Get Behind Me Satan the Stripes' gospel, bluegrass and Delta influences are worn right on their red, white and black sleeves. If I had to guess I'd say that Jack probably feels like this is the most honest record they've done. He sounds confident, relaxed and right at home in these songs, and when the Stripes are in the pocket resistance is futile.
So clearly this is no ordinary band. The marimba and bone rattling fills on The Nurse reveal a command of the pleasures of mystery. Jack's vocal performance on The Denial Twist is as cocksure and accomplished as anything Robert Plant laid onto vinyl. And bringing Meg out like Moe Tucker to warble a 35 second liberation ditty is a typical masterstroke. The White Stripes continue to surprise and entertain simultaneously and, well, that's all you need to do really.
So yes, Jack and Meg probably have thought out their marketing strategy as much as Coke or Pepsi, but there's more than high fructose corn syrup in this American concoction. Just because it looks good, doesn't mean it ain't. Now if only Jeff Tweedy could get the boys to wear a four-headed turtle neck sweater everywhere they went they'd give Wilco their own reality show!
3 July, 2005 - 23:00 — Alan Shulman