Music Reviews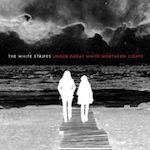 The White Stripes Under Great White Northern Lights
(XL)

White Stripes live experiences have been varied for me. As a seventeen year old seeing them at Glastonbury 2002 was quite spectacular. I nearly ruptured my bladder from holding it so long, not wanting to miss a single second. They were ferocious and quite frankly astonishing at times; if I was wearing a hat my hand would have been firmly holding onto it. They didn't just tear through their set; they ripped through the stage and audience too. Fast forward three years to their 2005 Glastonbury headline slot and that intensity had waned somewhat. Of course they were playing a stage so much bigger to a crowd of gargantuan sizes, so it was bound to be different but the nervous and relentless energy they exuded three years previously had been replaced with what felt like superfluous tinkering. In between those years I also experienced brilliance and tedium in equal measure from their live shows.
Now, in 2010 Jack White has certainly shred some of that enticing mysticism that once surrounded him. Coca Cola adverts, James Bond themes, turgid mainstream side projects and dating A-list movie stars. So, part of the charm of early White Stripes shows has been depleted somewhat. Also, in the mean time they have become rather massive, playing arena shows that two piece blues/rock is not really built for.
Taken from a 2007 tour of Canada, the track listing covers their back catalogue pretty aptly except oddly, it ignores De Stijl entirely. The album is a fluctuating at times messy at times glorious affair, going from plain bad to magnificent within a matter of minutes. The ultimate aim of any live album is of course to capture the essence of what a band is about, and by having such imperfections and variations of quality the album succeeds in doing just that – capturing a band that have displayed both simplistic, rudimentary brilliance and also produced material of distinctly average quality.
Some songs triumph with an omnipotent force. A blistering rendition of Jolene leaves one reeling somewhat, as does their version of I Just Don't Know What To Do With Myself. White's vocals soar, his guitar screeches to an almost frightening degree; it's a stark and welcome reminder of the power they are capable of emitting. Banshee shriek is an often overused term when referring to vocals, but Jack White really does sound like a cross between a crazed preacher and a feral animal at times. Some songs just fall flat, Ball & Biscuit just never really goes anywhere and this leads into the equally tiresome Icky Thump which is drenched in horrendous sounding keyboards and unnecessary guitar tangents that only really succeed in distracting you from the song. The version of Fell In Love With a Girl manages to remove just about all the fun that the song so seamlessly possesses - it turns into putrid affair with audience participation and highlights the frustrating side of the White stripes already mentioned tinkering.
The sweeter side of the Stripes rears its head only the once on We are going to be friends, which is a shame as it's an often overlooked aspect to their music and actually often acts a welcome break from the heavier stuff and subsequently adds an element of diversity. The album doesn't necessarily suffer from the lack of slower tracks, as it does retain a steady, cohesive tempo as a whole and is actually track listed very well indeed – feeling much more like a concert itself rather than a series of live songs. Ultimately, like many live albums before them and certainly after them, it's just okay. It succeeds in capturing a performance that is an apt representation of the band and is largely an aural pleasure, yet you never really shake the fruitless nature of the album – nothing here has been extracted that hasn't already graced previous White Stripes records or been showcased already in live performances.
30 March, 2010 - 16:18 — Daniel Dylan Wray