Music Reviews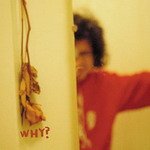 why? the early whitney ep
(anticon.)
Buy it from Insound

If you've had a chance to pick up why?'s effortlessly inventive and impressive debut album, oaklandazulasylum (and if you haven't, you need to - trust me), then you'll already be aware of this EP's title track. Pavement meets Devendra Banhart meets The Black Swan Network, why? is adept at concocting tender acoustic vignettes that show a willingness and ability to experiment without boring us all to death.
Like his debut, the early whitney e.p. has more warm charm and inventiveness than virtually anything since De La Soul chose to curb their more eclectic tendencies in favour of anthemic bounce-alongs. Despite overlaying samples of slapped cheeks for percussion on ladyfingerz and scratching with a rooster crow on the lo-fi apotheosis-of-loveliness that is darla (a strangely affecting ode to a chicken doomed to be roasted), why? never loses sight of the fact that most people like good tunes with nice melodies too, and virtually every tune on here contains at least two unexpectedly blissful moments, and usually when you least expect them. And unlike many anticon artists, he's also adept at writing beautifully simple and affectingly compassionate lyrics ('Darla, you never said you were unhappy').
Closer the crest is a majestic pomp-rock that post-Syd Pink Floyd would be proud of (honestly, it's better than it sounds). At least 3 of these songs would be worthy title tracks, and why?'s prolific and consistently idea-strewn output at the moment (and his excellent recent remix work for themselves), points to one of the most genuinely exciting and inspiring talents to come out of music since the last time I said that. An EP that reminds you why you fell in love with music in the first place.
30 November, 2003 - 00:00 — Pat Harte