Music Reviews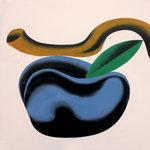 Widowspeak Plum
(Captured Tracks)

On their fifth LP, Widowspeak find inspiration in life's everyday rhythms. The Brooklyn-based duo of Molly Hamilton and Robert Earl Thomas provide insight into their practical concerns and how they can change for the better. These are no easy answers to these questions, of course, but any process always has a start. How Hamilton and Thomas approach these topics is efficient, pleasant, and never overbearing—providing just enough details as they allow their smooth country-pop arrangements to take flight.
After dimming the lights on 2017's Expect the Best, where their songs explored the frontiers of fuzz and distortion, Plum is brighter and radiant by comparison. The title track opens with a lazy guitar chug that sits well with the rest of their discography, albeit with more polish and sophistication. "Try to hold on to the sweet/ Where the softness used to be," Hamilton muses, channeling her feelings of hopelessness—and bringing a new meaning to Joseph Campbell's adage that "Your life is the fruit of your own doing." The arpeggiated guitars that underpin Money's constant backbeat is intoxicating, as she reminds us that "Money doesn't grow under trees." It's an overused term that, at least here, they use effectively, making the point that possessing things is not a source of the happiness we seek.
Through a full decade together, Widowspeak has gradually perfected a lush, twangy sound with such ease to such an extent where it was considered offensive or even, brace yourself, hipster. Maybe Hamilton's sleepy drawl had something to do with that critique, which drew many comparisons to Mazzy Star's Hope Sandoval. But given that time has separated the doers from the dreamers, the duo has earned their place. And in Plum, they do it better than most. But it's hard not to love a glowing heartland rocker like Even True Love, in which she yields to life's impermanence as it builds to a jangly crescendo. The placid English folk of Jeannie is airy, but not vacuous, possessing an enchanting melody that easily rivals Led Zeppelin's That's the Way—and Hamilton's baffling choice to repeat the same phrases in English and French is charmingly pretentious.
That Widowspeak survived, and also thrived, past the blog rock era is quite the feat. But instead of resting on their laurels, the duo took small steps to reimagine their sound even if the changes aren't readily noticeable. From subtle synth stabs to soft rock explorations, Hamilton and Thomas open their songwriting possibilities by paying attention to nuance. It's in those shadings that their music takes shape: slowly but surely, and with unassuming confidence.
6 September, 2020 - 14:17 — Juan Edgardo Rodriguez