Music Reviews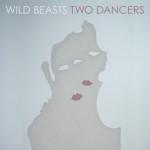 Wild Beasts Two Dancers
(Domino)

Wild Beasts are certainly one of the most idiosyncratic bands to have emerged from the UK in recent years. Last years debut Limbo, Panto was a brave, bold and at times bewildering approach to a magnitude of musical elements that as a whole was largely successful, if at times a little manic and incoherent in places. Only one year later and we have Two Dancers an album so laden with lush densities and provocative melodies that you would be forgiven for thinking this album had taken ten years to make.
Opener The Fun Powder Plot is a tropical fused number that chugs along steadily but seamlessly, as twisting melodies and intermitting percussion intersperse with one another; feeling cohesive, progressive and palpable. It's an invigorating and enchanting opener. Hooting And Howling follows, and here is where Hayden Thorpe's voice really begins to open up on the album, however not in the typical falsetto to growl routine that occupied so much of the first album. Here, Thorpe controls and restrains his voice to a mid-level. This, accompanied by the tribal like percussion and escalating production is, as a result, quite magical. It's seems producer Richard Formby uses a similar tactic used by Rick Rubin on Johnny Cash's version of Hurt and physically turns up the volume in conjunction with escalating melody and vocals, resulting in a grand, swooping and theatrical sound scope that also succeeds in raising a few hairs in the process. All The King's Men completes quite a rather triumphant trio of opening songs for an LP, and sees Tom Fleming take lead vocals for the first time. Which is a fine example of the art of track listing, as only three songs in and you already feel like you have encountered a varied, diverse and multi-layered record, which truth be told, you have; they have managed to supersede their last LP already.
As the album progresses those elements of tribal and tropical percussion become a staple and welcome addition. Sonically it bears resemblance to Fear Of Music era Talking Heads and to match, Thorpe's voice wraps itself around the percussive elements not dissimilarly to Byrne himself. This all comes to fruition beautifully on We Still Got The Taste Dancin' On Our Tongues.
That demonic growl that Thorpe has the power to unleash at will is very rarely exuded on this record, perhaps the closest we come is on This Is Our Lot or closer Through The Iron Gate and it arguably shows a sign of an artist years ahead of his time in terms of comfort, maturity and control. Rarely does such a new and youthful band exuberate such assurance and comfort in what they are creating.
One thing that is apparent throughout the LP and much like the last one is their use of repetition. They seem to have mastered the art of repetition without losing any focus or clarity. The last album's standout track The Devil's Crayon was a prime example of this, as is the lead single from this one Hooting And Howling; its very much focused around one melody or guitar part, but it seems such is the substance of this, that they are able to essentially loop it over and over without a sense of boredom or banality creeping in. Again, placing emphasis on their ability to balance restraint, and ambition astonishingly.
Its rather fitting that they chose an underwater video for their first single, as the Beasts have managed to encapsulate a submerged feeling on this record. However, as opposed to the record having the feeling of flowing water or a murky muddled sound like someone drowning, they have managed to amalgamate the two into a sound that is like someone being carried along downstream whilst remaining underwater. It has flow, clarity and precision yet it has uncertainties, oddities and a strange and peaceful eeriness. Had time constraints not been an issue this would have been prime folly for well deserved Mercury Music Prize nominee, and perhaps a well deserved winner too.
20 August, 2009 - 13:29 — Daniel Dylan Wray