Music Reviews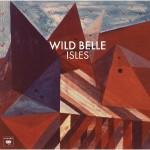 Wild Belle Isles
(Columbia Records)

Chicago's music scene has a close relationship to the streets. Whether a young, fearless MC freestyles about his neighborhood's stories, or a trance inflicting, house DJ sets the dance floor on fire, Chicago's music language and imagination has always flirted with the ways of the streets. Not Wild Belle. They hail from Chicago, but their young sound, still trying to find its own identity and texture, seems to come from a Caribbean plateau with synth-fed parties and smoky looks.
Wild Belle is a brother and sister duo formed by Elliot and Natalie Bergman. Isles is their debut album and it travels through two basic roads. The more predictable one is the indie-sound requirement that will surprise no one. An ordinary compilation of love deceptions and bitter moments expressed through isolated phrases and average sound arrangements.
Maybe Twisted, along with its superficial insinuation of love, 'What's the definition of love if it isn't material things?', is the best song in Isles. Marching drums backing up Natalie's delicate vocal colouring while a timid, handpicked rhythm on the guitar predicts a joyful outcome for all involved. The other axis on which Isles' sound rests is way more interesting. It finds its ingredients leaning heavily towards reggae-infected tempos and galaxy-diluted sound effects.
Keep You is the opening act. It was Wild Belle's first single, their contract magnet and a first encounter with massive attention. Natalie keeps moaning, 'Why can't I Keep You', over a cinematic spasm of digitally filtered, Jamaican reggae vibes. June is a dancehall cheerful tune about Chicagoan nostalgia. Not a problem. It's Too Late lets the listener understand that Natalie hasn't had the best of luck in love. And her brother Elliot's music reasoning perfectly frames her feelings of disappointment under the moan of a solid ska sax. Probably Love Like This is the highest point. The mellow dub lines let Natalie's laid back lyrics rest over simple but powerful confessions like: 'We could live in paradise and never leave'.
Wild Belle's debut is a respectable exercise of ethereal pop. A compilation of 11 songs with light bubbles of skunky dub floating around Natalie's voice. They are not a reggae band. They inject their filtered version of it into a musical melting-pot where Edie Brickell, Amy Winehouse, and Horace Andy collide. It definitely deserves a warm listen, at least one.
21 March, 2013 - 04:29 — Carlos Dávalos