Music Reviews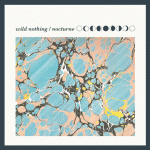 Wild Nothing Nocturne
(Captured Tracks)
Buy it from Insound

The dream pop genre has recently garnered quite a name for mediocrity lately. While some bands have released provocative and progressive takes on the reverb-heavy style, many have fallen into the pitfall of droning vocals, uninspired melodies, and, worst of all, production that simply washes out all traces of personality. Wild Nothing, moniker for songwriter Jack Tatum, could be considered one of the flagships for the former category. Gemini itself was a gorgeously intimate album of bedroom pop, creating a raw approach to dreamy songwriting with catchy hooks and melodies. In essence, it held what others lacked: a reason to listen again. After several listens to the record, it feels as if you've captured a significant yet fleeting glimpse of Tatum's psyche. It's personal while being universal; it's the center of Wild Nothing's appeal.
On first listen, Nocturne is noticeably different from Gemini in several ways. Opener Shadows introduces a larger and more polished production, which replaces the impression of a small, bedroom record with that of an actual studio. That brings with it some benefits and disadvantages. There's not much argument with the fact that the album is flawless in terms of production. As well, it's clear that Tatum is continuing to mold a more detailed sense of songwriting on this album, as exemplified by the strings on Shadow. These lush musical ornamentations are commendable, as well as the quality of synthesizers and reverb added, giving an entirely different texture to Wild Nothing's sound.
At the same time, the increase in production quality also diminished the intimacy of Wild Nothing's previous recordings. It is 80s pop perfection, or at least how Tatum would conceive it, without the flaws, inconsistencies and character of the original dream pop greats. Most of the record is mid-tempo, saturated with reverb, and too subtle to stand up against Gemini's sincerity and charm. Unfortunately, the album suffers greatly from following in the same footsteps of other 80s new wave revivalists: being safe and repetitive. The only relief to be found on the album is in songs such as Only Heather and Paradise, which thankfully add some memorable variety to the album's dry and monotonous formula of dreamy synth-pop.
Had this been the album that Jack Tatum debuted with in 2010, it's unlikely that Wild Nothing would be regarded with such esteem. Nocturne as an album is entirely in debt to a borrowed sense of nostalgia for 80s dream pop; however, the influence of that nostalgia on Gemini was simply that: an influence. I could ignorantly take the album out of context of this 80s revival and admire the careful intricacies and proficiency in technology to flawlessly recreate the essence of dream pop. In that sense, the album has a great attention to detail and is a well-crafted pop album. And like many of these other bands such as Craft Spells, the result is often very pleasant and uncomplicated. Submitting to such a perspective would be lazy, incomplete, and, worst of all, boring. What it comes down to for me is that there is just too little here to distinguish Wild Nothing from the vast sea of mediocre 80s revivalists, all getting a kick on overhyped nostalgia.
31 August, 2012 - 15:09 — David Hogg