Music Reviews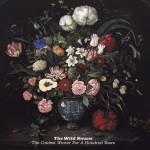 Wild Swans The Coldest Winter For A Hundred Years
(Occultation)
Buy it from Insound

It's no secret to anyone who's read the articles I've contributed to this here site over the years that I'm a Wild Swans fan. Their debut single The Revolutionary Spirit was quite simply one of the best songs of its time and No Bleeding is one of the best things ever, one of the few songs that gives me goose pimples even on the 200th listen. They made two great albums in 1988 and 1990 before head Swan Paul Simpson put the name to bed in a wave of disappointment and disillusionment.
It's been two years now since he resurrected the Wild Swans. I've watched their gigs and enjoyed them as much as any show I've been too; I've played their 'comeback' singles English Electric Lightning and Liquid Mercury to anyone who would listen. But this is the big moment - whether Simpson can muster the troops to produce the Wild Swans album he always heard in his head, that had remained elusive for the last 30 years. The Coldest Winter For A Hundred Years is that shot at the prize.
First things first, the quality of the songs is top rate. Simpson has always shown he has a handle for a brilliant hook going back to his days working with Ian Broudie as Care. The album has more memorable moments than any I've heard in the last decade. Lyrically, it reflects on some of the themes that we got on Bringing Home The Ashes - the title track and Northern England mused on a place shattered by years of Thatcherism. Two decades on, the Liverpool of the past is truly gone and progress isn't always a positive. My Town sees our man musing that "My town used to fill me with wonder/Now it fills me with disgust". The reasons for this are seen in The Bluebell Wood, Simpson lamenting the loss of the woods and fields of his youth to be replaced with "dark satanic shopping centres".
When Time Stood Still covers similar ground, chronicling a drive home bringing memories of "Live At The Witch Trials, Armalite Rifle, Horses, Little Johnny Jewel". It would be easy for all this to eventually ground the listener down, but Simpson has done well to recruit a somewhat exceptional band around his songs. The twin guitar attack of Ricky Maymi and Mike Mooney sounded absolutely thrilling on stage and I'm thankful that their power has been transferred onto tape. They sound at their best on the pop-tinted Underwater and Intravenous, the latter featuring a cameo from Will Sergeant.
It's also good to see that man's old comrade Les Pattinson doing what he does best - whacking a bass - alongside drummer Steve Beswick and honours go to Richard Turvey for his duel role as ivory tinkler and producer. He's helped made a wonderful sounding album - especially on the dreamy Glow In The Dark, which deserves to be used in a soundtrack for a weird David Lynch film. My hat is tipped. Lost At Sea may also be the saddest song you'll hear this year - a lament on the fleeting nature of our existence ("One second of lost concentration, the next I'm engraved on a stone") with haunting backing vocals from Candie Payne.
In both songwriting craft and execution of recording, The Coldest Winter For A Hundred Years is exceptional. It's been a constant presence in my home for the last week, and it'll make a welcome addition of yours too.
28 July, 2011 - 08:22 — D.C. Harrison