Music Reviews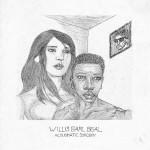 Willis Earl Beal Acousmatic Sorcery
(XL/Hot Charity)
Buy it from Insound

Anybody with the necessary number of orifices, receptive organs and keyboard manipulating fingers will have at least heard a whisper of the name. Maybe some can conjure spurious speculation as to his whereabouts; have seen the sketches and animations online or you may even have his Grandmother's telephone number and address? Weird, huh?
It will seem ridiculous to suggest in a year or maybe even a week following the record's release, but Willis Earl Beal, despite his renown, is actually quite an elusive character. A few months ago he himself was just a rumour. His backstory will be regurgitated incessantly and despite a certain shard of relevance, the history is simply an adornment to his character upon which the music is influenced and therefore I dissolve, as ever, into the music.
Take Nepenenoyka, the opener, a haunting and jangling instrumental – this is a statement. Many listeners will discard the record within thirty seconds, and great, it isn't for them. Take Me Away, consequently, is a raw-blues growl over rudimentary percussion that has his coarsely tempered soul at its core. Don't get comfortable with this form either, the very next track Cosmic Queries sounds like rudimentary prog-rock and the vocal finds another alternative texture, as it does throughout.
The heart of the record chugs and beats like an old engine, it rumbles mainly, and screeches occasionally, and just sometimes it becomes something else entirely. The vocal, whilst preaching poetic prose, can do so from any conceivable aspect. It can croon a soft whisper, or rap a violent curse and in between times it can do almost everything else. This occurs exactly within two tracks, Sambo Joe From The Rainbow and Ghost Robot, for example. Within these chaotic parameters there is no longer the typical or expected and actually the opposite is also incorrect.
You could choose which mind of Willis Earl Beal appeals to you most and reduce him to those certain tracks that feel most appealing; however, what you forgo in that sense is the entire artist and the true worth of his art. Acousmatic Sorcery is indeed an exploration for the listener as much as Beal himself, but travel senselessly on his off-beat rhythms and you realise that there isn't necessarily a destination, just that the journey is an enriching triumph.
It is a totally subconscious awakening of the soul that has no regard for practically any popularist references. Willis Earl Beal is a phenomenal vocalist, with a unique drawl and searing tone. Phenomenal in virtuosity, yet even more astounding with his delivery. A man that can croon like the best of Sam Cooke is also a man that can be as experimental as Captain Beefheart. Most human beings on this earth would use such a soulful oration to imitate and emulate past masters of the art; however, Mr Beal has his own agenda.
27 March, 2012 - 12:55 — Matt Bevington