Music Reviews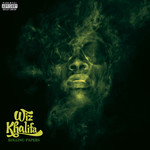 Wiz Khalifa Rolling Papers
(Atlantic / Rostrum)
Buy it from Insound

From a critical, music-as-art standpoint, there isn't too much to say about Rolling Papers: it's a competent, somewhat uninspired collection of pop-rap from a well-hyped and much-anticipated artist. It breaks no new ground, says nothing new or interesting about its topics (the nature of celebrity, the importance of friendship, the triflin' nature of bitches), but it still makes for an occasionally pleasant, mostly inoffensive listen.
However, as vessel for potential hits, Rolling Papers is a smash.
Seemingly every song on the record comes pre-packaged for major market radio play. The production comes from pop all-stars like Stargate (who are responsible Rihanna's Rude Boy and Katy Perry's Firework) and Jim Jonsin (who should get a stern talking to for Pitbull's Hotel Room Service), meaning the beats never really get more active or inventive than they do on Khalifa's adopted Steelers anthem Black and Yellow.
Similarly, Khalifa seems content not to switch up his Curren$y-meets-Ludacris delivery on any track, maintaining a middle-of -the-road, attempted cool throughout the album. He raps like he wants people to sing along, keeping his flow tight to the beat, his rhymes simple, his cadence basic, his slang commonplace and his punchlines broad ("hoes follow me like Twitter" is about as clever as Khalifa's lines come).
Despite it all, the album maintains a winning charm that sets Khalifa a level above the rest of pop-rap's fame-hungry pack. The rapper places a heavy focus on taking care of his pre-rap friends on songs like When I'm Gone and Roll Up, and while that topic is well worn, Khalifa brings an added conviction to his pledge to bring the whole town with him that comes out in the music ("You know if I ball / then we all gonna stunt).
Throughout the record, Khalifa seems completely content with who he is and what he's about. He loves his friends (No Sleep, When I'm Gone), he likes fucking with ladies and occasionally gets his heart broken (Get Your Shit) and, above all else, he's fly as a motherfucker (pretty much the rest of the album). It is that sense of self that prevails over the pop sheen of Rolling Papers and makes it worth more than a passing listen.
3 April, 2011 - 18:36 — Charlie Jebb