Music Reviews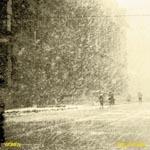 Women Public Strain
(Jagjaguwar)
Buy it from Insound

The sad thing about music is, despite the immortal spirit of innovation and the plethora of electronic hardware available nowadays, for all intents and purposes, it's all been done before. Thankfully, that's usually OK; those circumstances give musicians a way to reinvent the wheel and still provide listeners with a context to understand the music. Sometimes, though, no matter how an artist tries to reach that balance, the end result is nothing but a dose of sonic disappointment. Women and their sophomore album, Public Strain, are case zero for that sentiment.
Call them No Wave, Shitgaze, Art Punk, or whatever label excites you the most, the collection of songs one could call an album accomplishes one simple yet utterly amazing feat: to be terribly offensive in a number of degrees. At its weakest, the album is merely boring with the lamely typical Can't You See, an album opener of distorted rumbling and vocals so low you'd strain to make them out. Arguably worse than a bland track is that the album actually offers some hope for a reasonably enjoyable experience. Tracks like Locust Valley and Venice Lockjaw come across as simplistic, burned out odes to nihilism, adorned with the sweetness of punk ambience and beautiful, melodic guitars. But in the end, they're teases, shams incapable of sustained artistry.
At its deepest, most painful level of auditory maliciousness, we get the one-two punch that is Penal Colony and Bells. The former is a little ditty built on lo-fi wailing and minimalized guitar. However, it's just the accomplice in this musical hate crime; Bells is the real perpetrator. At some three and a half minutes, the song is nothing but noise, wave after wave of feedback, distortion, or whatever technique they deemed clever enough to utilize. Besides these two, I'd like to think my disdain has much more to do with the problem with bands/albums like this as a whole: they're not Lou Reed. Yes, it's fine to use the same methods Mr. Reed implemented, but to dole out several minutes of junk noise doesn't make you seem unique, clever, or even like students of the game; it makes you sound pretentious. That pretentiousness is primarily the problem with acts like Women because it stifles potentially good tracks under the weight of failure disguised as hipness, a sense of "Whatever, I make music, and it's gritty and lo-fi and I don't care. You're not supposed to like it anyways."
A greater point is that numerous bands have combined lo-fi, punk, Velvet Underground, and heaps of other influences more pleasantly to render Women invalid. From the older, decidedly more alternative Pavement or the psychedelia of Neutral Milk Hotel to modern fare of Wavves or Vivian Girls, musicians for the last 15-plus years have done more with less. And while comparing one act to another is usually a cop out, who really needs Women when we can listen to something else? Do they add anything? Are they truly that talented? The answer to those questions, and whether this album should be bought and consumed, is an unbelievably resounding no.
28 September, 2010 - 02:49 — Chris Coplan