Music Reviews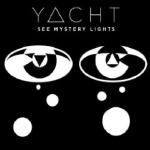 YACHT See Mystery Lights
(DFA )

It is true that the absurdly infectious "ah yi ah yi ah yi ah" refrain from Pyschic City (Voodoo City) was, for quite a while, replacing our drunken, bar hopping renditions of That's Not My Name, but I always had the feeling that this song, featured on Pitchfork two months before the album's release, would be the best one on there. This is, actually, the case. The more I learned about YACHT, the more I liked them. Jona Bechtolt (who had, among dozens of other projects and solo work, collaborated on The Blow's excellent Paper Television) and his girlfriend, science writer Claire L. Evans, comprise the group. How adorable. Unfortunately, however, quite a bit of See Mystery Lights (named for the mysterious lights visible in the nightscapes of Marfa, TX which fascinated the duo) is fun and danceable but rather forgettable. This can even be said of Summer Song, which singlehandedly got them signed to DFA Records.
Rearticulated here are the familiar YACHT themes of carefully yet simply examining our association with the things we own, the money we make, all the while pondering our ultimate destinies. "Will we go to heaven or will we go to hell? It's my understanding that neither are real," we hear on the bright opener Ring the Bell which, if it had a few more synthy layers, almost sounds like it could fit in somewhere on Merriweather Post Pavilion. The Afterlife continues the fun, dancy examination of death and is one of the strongest tracks with the ominous chorus playing off of cheery blips quite effectively. Then comes the thirteen minute stretch during which I got a little bored during the autotune-fest called I'm in Love with a Ripper and the ironically titled It's Boring/You Can Live Anywhere You Want. Later highlights include the perfectly memorizable ode to internet culture, We Have All We Ever Wanted and Don't Fight the Darkness, which should have ended the album.
See Mystery Lights comes to a very weak ending with the unnecessary I'm in Love with a Ripper (Party Mix) and the album closer Psychic City (Version), which offers Evans singing a capella the lyrics more as they sounded in the version by Rich Jenson. If I were playing this album for friends, I would scramble to shut it off before it begins, however, when I'm listening alone, it's sort of nice to have such a drastic shift to tell you to stop dancing. I only wish it were a shift into a song I actually enjoyed listening to. They were obviously very eager to explain the way this song came to be as they dissected each and every piece on their website, and this song belongs in that article, not in the album.
On their website, YACHT also claims to be a way of life, a philosophy, an evidently rather shallow one involving free thought, free expression, and free Wi Fi, but one that's so gleefully optimistic that it's hard to ridicule, especially while you're dancing. It is not, by the way, a cult. Sentiments such as "If you say it out loud, you can make it happen" from Platinum (Featuring Bobby Birdman) from previous album I Believe in You, Your Magic is Real are reiterated in lines such as "Don't fight the darkness, bring the light and darkness will disappear," in Don't Fight the Darkness. We are always told to take responsibility for our own happiness, a simple yet elegant theory.
As critics, and I'm not ashamed to say that I'm new to all this, maybe we listen too closely to things that are really just meant for the background. Then we end up feeling like something is boring or repetitive whereas if we were painting our toenails or smoking out, these tracks would feel fucking perfect. So I kind of experimented with that theory and it's pretty true. YACHT's music is as simple and enjoyable as their philosophy. You won't end up ruminating on it all night, but you are very likely to enjoy it while it's on, and a few tracks, like the incredible Psychic City (Voodoo City) are so good that I want to think that they do hint at something incredibly profound, just through their exquisite composition. So come on over, YACHT's having a party for you, and they are the DJs and you might want to step out for a smoke or check your iphone once in a while, but you'll be mostly entertained.
31 July, 2009 - 12:44 — Jaclyn Elgeness