Music Reviews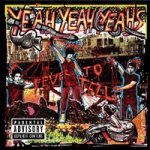 Yeah Yeah Yeahs Fever To Tell
(Polydor)

Take the YYY's; we know how it goes, no mysteries to this trick, no smoke, no mirrors just straight up wild and dirty rock 'n' roll - sex, booze, crazy dancing and crazier fashion. You buy the record, you love it for a time, and then music moves on and you forget. Lacks a depth that would resonate through the years; remember them? Remember when? Well wasn't it fun? That's the story aint it? Actually no, not quite, the Yeahs may have the fever but they also deal in revelations.
A subtlety not apparent on opener Rich, art-punk so tightly wired that it could go snap at any moment, Ms O caterwauls, Ms O gasps, and Ms O screeches. Danger! High voltage! Date with the Night slams the pedal right down to the metal, a display of sheer velocity, and an uncompromising choice for a first single off a debut album. It careers, free-wheeling, down well greased tracks of tremolo guitar like a run-away subway train from the big city is pays homage to. My head spins. This is the straight up fun about which we were told.
By Man Karen O, truly the iconoclastic heroine of this wonderful flux, continues her disposition on sex, love and the ties that bind ("I gotta man who makes we wanna die"). This the prevalent subject matter is handled, unashamedly, unguardedly and confrontationally. Covered in blood, sweat, and vomit she destroys any notion of contrivance or artifice, grunting and gasping, flitting like the mad thing she is across the vocal range, all onomatopoeic glory; for you see, there are times when the truth is no words.
Then over half way through the mere 37 minutes it lasts, this fantastic, lurid, figure finds herself, broken like a butterfly crushed. No No No sees her reeling, as if suffering the heavy hit of the jackpot drinker, awaking on the floor in those silent, sepulchral early hours. She surveys the battleground, assesses her loss, and is borne skyward by surging no wave guitar and shambling cymbal heavy percussion. And so Ms O moves staccato through the wreckage before being floated into space - simulated for these purposes by spooky random drumming - her voice now no more than a speck.
No No No is Fever to Tell's, and the YYY's, watershed moment, what follows is a display of maturity, guile, and promise (the preceding were cheap thrills, as undeniably thrilling as they were) hinting at timelessness, a timelessness which though not quite attained here is in their power to create. Take Maps where sober and reflective, O has become Polly Harvey: "They don't love you like I love you", she sings - very pretty, unpretentious and touching. She's just a girl in the world.
Modern Romance with its portentous intro brings the show home, and there could be no more fitting finale, our heroine as sweet as candy, all the bravado, and whirlwind of the early tracks having fallen away. Tear jerking, austere and melodic, "there is no modern romance", she opines and we lament the death of love...
28 May, 2003 - 23:00 — Alistair Hann