Music Reviews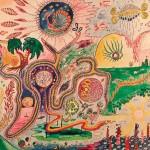 Youth Lagoon Wondrous Bughouse
(Fat Possum)
Buy it from Insound

I don't know what insect Youth Lagoon's Trevor Powers had in mind when conceptualizing his bughouse, but if I had to guess, I would say he was thinking of caterpillars and butterflies. Caterpillars start out in this world as squirmy, feeble, nervous beings whose world consists largely of a hearty tree trunk they inhabit, only to eventually hibernate in a self-made chrysalis before emerging as a glorious, elegant butterfly. And even though this winged creature is more striking than ever and can experience the world from vantage points not possible before, you can still see the timid, wriggly little life form it once was at its core. It's still a microscopic gem dotted in a vast, magnificent world, but now it has a better understanding and appreciation of its surroundings.
Okay, I understand how cliché it is to describe an artist's growth with a butterfly metaphor, but I just had to capitalize on it seeing just how appropriate it felt this time. For instance, consider the names of Youth Lagoon's two full-lengths, the first being 2011's The Year of Hibernation and the latest donning the name Wondrous Bughouse, which describes each albums' experience quite well. Hibernation was both an incredibly intimate and expansive album, as its brand of post rock-indebted lo-fi pop was like watching a child quietly play in his room as the camera slowly pans back far enough to reveal landscapes of mountains and forests surrounding his tiny home, putting into greater focus how small we truly are. Powers' haunting, premature voice felt more like faint cries of loneliness and distress carried through said mountaintops, and it was clear that, deep down, he was longing for bigger, brighter, and better things for his music.
This is the moment where Bughouse swoops down triumphantly and gracefully like a huge luna moth against a star-riddled sky. Where Hibernation's fixation was largely on themes of isolation and "small-ness", Bughouse instead utilizes the broad colored chalk of imagination to create a dense, emotional, and kaleidoscopic pop record that dwells in euphoria as opposed to Hibernation's dysphoria. Powers' frail voice, penchant for post-rock builds, and expressions of fear and insecurity are as present and captivating as ever, but by trading in Youth Lagoon's previously homespun coziness for a more robust, psychedelic approach, Powers manages to create a unique and multi-dimensional world all his own rather than long for something outside of his native Boise, Idaho like before.
The insect metaphor I used before not only describes the growth in Youth Lagoon's sound, it also accurately describes the sound of the album as well. The basic musical elements that make up Wondrous Bughouse aren't incredibly unique by today's indie pop standards, but the squirmy, twitchy, and oftentimes eerie sounds Powers exerts through organic synths and warped guitars make tracks like the carnival-esque Attic Doctor and the trippy Raspberry Cane beckon listeners to explore all of their oddest eccentricities. However, it's the albums thick, overwhelming production quality that breathes new life into Youth Lagoon's latest. Though some may miss the lo-fi approach of Hibernation, it would be hard to imagine Powers executing a stellar track like Mute, with its skyward cymbal crashes and decaying melodies, with the same scope and illuminated brilliance while stuck in his bedroom.
The dense production also bring a much greater level of sonic complexity to Wondrous Bughouse, as pretty much every track on the album has a lot going on underneath their bouncy, and sometimes dreary surfaces. Drowsy, narcoleptic tracks like The Bath and Daisyphobia are riddled with subtle, hidden embellishments that manage to offer the listener a new experience every time they listen to them, depending on how well they pay attention and at what moments. This might be a turn-off to those who preferred the more simplified and straight-forward approach of Youth Lagoon's earlier tracks, but while Power's songs have certainly gotten a lot busier and more adventurous, there isn't a moment on Bughouse that doesn't envelop the listener in strong, light-hearted melodies before any challenging quirks have the chance to rob them of their emotional luminescence. Larger-than-life bashers like Pelican Man and Third Dystopia, despite their myriad of sonic surprises, are undeniably powerful pop songs through and through, and could only have been pulled off so convincingly with Power's wide-eyed playfulness.
Despite its enormous size and power, however, what makes Wondrous Bughouse such a unique experience is Powers himself, as the diminutive stature of his voice, which has been compared to that of Daniel Johnston at its most stark, offers an interesting contrast to the monolithic scale of the albums' tracks. Ultimately, this gives the colorful and twisted passageways of Bughouse the feeling that it was conjured by the imagination of a young child, its tracks resembling scenes reenacted through action figures and toy blocks. This childlike presence comes alive in Dropla, the album's finest moment, as Powers' frail and unassuming voice caries itself over the song's blinding melodies with the promise of You'll never die. It's hard to tell who exactly he's talking to, but if I had to guess, I'd say it's a promise that his own childhood innocence and imagination is here to stay.
Wondrous Bughouse, with its epic sprawl and quaint curiosity, successfully captures through its music the idea that the smaller you are, the easier you're dazzled and overwhelmed by the world around you. Growing up in the relatively small, isolated city of Boise, I could only imagine how Powers felt embarking on his first major tour as Youth Lagoon. For children, this astonishment can come with almost any new experience they may come across. And for a butterfly first breaking out of its cocoon, that first time flying away from the tree it's known its whole life must be a truly wondrous experience.
7 March, 2013 - 04:24 — Peter Quinton