Music Reviews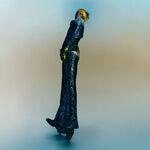 Yves Tumor Praise a Lord Who Chews But Which Does Not Consume; (Or Simply, Hot Between Worlds)
(Warp)

Since they released 2015's When Man Fails You, Yves Tumor has opted to go where there is no path and leave a trail. Tumor, the producer and multi-instrumentalist born Sean Bowie, began exploring disparate strands of electronic music before fully embracing classic rock and funk in their 2020 LP Heaven is a Tortured Mind. Bowie had clearly defined their identity as an iconoclast with a hunger for writing more accessible hits, a goal they achieves with help from famed producer Alan Moulder on the mouthful of a title Praise a Lord Who Chews But Which Does Not Consume.
The second half of the album's title, Or Simply, Hot Between Worlds, brings to mind a sci-fi saga with Tumor playing an intergalactic charmer in the lead role. With the highly confident, slightly genre-bending music they has imagined this time, Tumor might as well embody the part and try to serialize his full vision. While there's a vital richness throughout the sonic miasma they creates, Tumor effectively taps into their vulnerable side behind a robust backing band. Often, their experiments are breathtaking—literally. "There are people in my heart I can't show," they admits on the glam-punk of God is a Circle, accompanied by a righteous guitar freakout a la Prince while a panting audio effect creates tension.
Throughout the album, Tumor plays with muggy layers and sultry allusions that assert their freewheeling spirit. "Lovely sewer, tragedy free/In love with our frenzy," they sings on Lovely Sewer, which begins with an icy industrial beat before opening up into glistening early-aughts indie rock. One of the most fun tracks here, Operator, has Tumor yearning for connection. "Sometimes you are so hard to please," they hollers over an unyielding electronic dance beat, their pleas growing more and more intense as throbbing bass walks through the grim ambiance. Tumor is fed up being hard on themself, as they says on the falsetto-driven Fear Evil Like Fire, tired of binding up the wounds that need attention. But alas, they persists with a tinge of resilience: "The boy you are today/ain't from a lack of pain."
Another throughline Tumor navigates convincingly is that of 90s alternative music, which might explain Moulder's (Smashing Pumpkins, Nine Inch Nails) involvement in the project. While they has the attitude to pull off its tattered aesthetics arrangements-wise, Tumor does embrace the time's arrangements with mostly positive results. While Meteora Blues builds over a soft acoustic melody reminiscent of Stone Temple Pilots, the warped techno groove of Echolalia has shades of Garbage circa Version 2.0. Still, Tumor refines these styles with their usual psych-funk guise, countering abrasive textures that feel as warm as a steamy kiss.
In Praise a Lord..., Tumor achieves the difficult task of remaining as perplexing as ever while forging a more inviting sound. While such a varied smattering of ideas can work against its benefit on occasion—the instrumental Purified by the Fire being an example, which does recall their early output—Tumor hangs everything together with dark and inventive layers of pain that never relent. After Tumor ends things with a glimmer of hope on Ebony Eye, we're enthralled with their journey, eager to see where they will take us next.
20 March, 2023 - 05:05 — Juan Edgardo Rodriguez