Music Reviews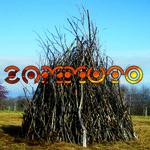 Zammuto Zammuto
(Temporary Residence)

Nick Zammuto is the guitar/bass/vocalising half of The Books, one of the last decade's most original and surprising groups. Earlier this year Zammuto officially announced the duo's split, which for many (myself included) came as a source of mild regret. Over the course of their four albums The Books created a signature sound that was totally unique, one which can be best described as collage-folk, combining a kind of postmodern cut and paste technique (samples of spoken word and found sounds), with almost pastoral, acoustic instrumentation – guitar, banjo, Paul de Jong's plaintive cello. By the time of their fourth and final album, 2010's The Way Out (with its retrospectively prophetic title) it seemed as if the world had caught up with The Books' modus operandus; their technique and sound were no longer so original and different, and as good as the album was, one couldn't help the feeling that the band were making music in a way that was expected of them, rather than confounding expectations. So, the general consensus seems to be that The Books had run their course – they'd had a good innings and left us with some great music.
So I guess Zammuto's solo debut comes weighted with a certain degree of expectation of its own, but also trailing a number of questions too. Will it deliver the same kind of thrill that his former band's albums did – the kind of jouissance that comes from hearing something totally fresh and new? The answer I suppose is no, but it is still a damn fine album nonetheless. Opener Yay is a joyful leap in the air of a track and a perfect way to start the album. There's a vocal here of sorts but it is spliced and splintered almost out of all recognition, while still providing a melodic hook to hang on to. The processed vocal was a signature trait of The Books. It continues on the next track, Groan Man, Don't Cry, which starts with some funky guitar and morphs into a prog-pop workout. The staccato guitar recalls early 1980s King Crimson (of all things), while the organ sounds are straight out of the Keith Emerson songbook. Throughout the album Zammuto's vocals are given much greater prominence than they ever were in his previous band, albeit usually altered or synthesized. Occasionally you hanker after a human voice – something warm to aurally cling to. A case in point is F U C-3PO, instrumentally a great alt.pop song, but you can't help the feeling that the emotion is being downplayed by offering the vocal in processed form. Maybe it's a deliberate ploy. On the other hand it really works elsewhere, as on the beautiful and mesmerizing Harlequin, which reminds me of Beck's Nobody's Fault but My Own, as performed by a haunted robot yearning for a soul.
The overall strength of Zammuto lies in its song-writing – something that could never really be said of The Books. Their songs were more like constructions in sound, meticulously built up in layers from samples, with the music providing a mood or feeling. Vocal melodies or hooks were thin on the ground. Here, however, catchy pop songs (albeit skewed ones) are the order of the day. I loved The Books – they were one of my favourite groups of the last decade – but this new venture provides an exciting, if slightly more conventional, proposition for their fans.
4 May, 2012 - 09:40 — David John Wood