Music Reviews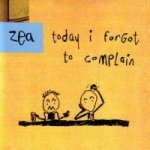 Zea Today I Forgot To Complain
(Transformed Dreams)
Buy it from Insound

Instantly I'm thrown into problems. Zea are Dutch, and my knowledge of the music of the Netherlands begins and ends with Screaming Blue (they of Venus one hit fame). Yet I need not of worried for Zea, essentially the project of Arnold De Boer, sound more like they come from New Amsterdam then anywhere on the banks of the River Amstel.
And in true NY, NY fashion this could well be what they call 'art-rock'. Not that I know, as that to me means Pink Floyd or similar but recent times have seen that definition thrown out. But I digress: what it does mean is we have would I would kindly call an 'eclectic' collection of 15 songs with titles such as Counting Backwards Leads To Explosions and Press Start To Continue. Yes, very good.
Of course, if I was feeling less kind, I would point out that the fragmented styles on offer gives this more the feeling of 15 songs by about 10 different bands. While on the one hand we have the pleasant sounds of Flying Objects Will Reach You Soon (which has the melodic charm of They Might Be Giants) we also have to put up with the tedious electric beeping of You Fantastic! with it's cringeworthy refrain of "I'd like to touch your ass."
A mixed bag that works against itself then. Credit where credit is due though, for having socio-political musing on Pan-Kee. If Zea are to be trusted, book those one way to tickets to China pretty soon if money is your lust. Of course, you could also not bother. Your decision.
12 June, 2003 - 23:00 — Peter Mattinson