Music Reviews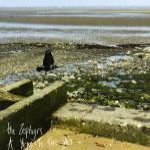 Zephyrs A Year To The Day
(Setanta)
Buy it from Insound

Songwriter Stuart Nicol and his brother David have been working together for ages now, and have been recording as The Zephyrs for four years, releasing two albums, a single and an EP, for whatever reason, in Spain. They've also been through a rake of bandmates, and on this outing are accompanied by members of Mogwai, Super Furry Animals and something approaching a small orchestra. They're touring the UK this summer, alongside new bandmate Malcolm Cochrane, and performed at the summer's sunniest festival, the Benicassim in Spain. A Year to the Day is clearly tinged by the lazy, hazy summer festival feel. Oddly, for such a relaxed and blissful album, this LP was tinged by adversity, its production marred by the loss of a record label and a publishing deal.
Opener Lacuna Head builds slowly in its post-rocky intro, clearly demonstrating the shared ground with Messrs Cummings and Burns of Mogwai, but its architectural ambitions seem to construct into nothingness. Go Slow then demonstrates the other half of the guest list, a Banjo-infused Super Furry sound, also found on A While, paired with soft, multi-layered vocals and pedal steel guitars. After four minutes, and with very little warning, things turn all polyphonic and gleeful. Summer's here. A While also boasts grand choral and orchestral flourishes, the highlight of which is a gutsy cello hidden away deep in the mix. By way of a break we have get Washed to the Shore, a lilting, rather Scottish ballad, full of watery references and cute conceits. Clever, if a bit inconsequential. Empty Eyes is more ambitious, full of echoey, off-centre vocals, all strings and post-rock percussion, while One Year Many Mistakes, a track that offers something of a lyrical manifesto, is highly reminiscent of early Lemonheads. Meanwhile, Nick Cave's demonic influence appears on Stand Round, a slow burner full of pathos and atmosphere. There's a funny ending to the album; the strange C&W-touched instrumental Roberta Flack kills itself softly, while Don't Say Sorry is a surprisingly apologetic finisher.
There is much to admire on A Year to the Day, in particular the reserve and structure of the tracks, the often-beautiful vocals, and the deft touches of orchestration. This music is well conceived and executed, at times deeply emotive. But in the end, I can't help but feel that there are bands who've done a lot of this before, or who today are trying and often succeeding in going the extra mile.
13 September, 2003 - 23:00 — Ben Bollig