Music Reviews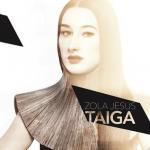 Zola Jesus Taiga
(Mute Records)
Buy it from Insound

Zola
Jesus' music has always been colossal. With each subsequent album, she combines nature and machine with her vocals and expansive electronic sounds to reach higher and higher peaks. Now, with
Taiga
,
Nika
Roza
Danilova
is trying to entice a larger audience to follow her up the mountain.
If
Conatus
was her breakthrough, then
Taiga
should be the record to make
Zola
Jesus an indie star. Many of the songs on this album have a cinematic quality, like
Zola
Jesus in widescreen. The pieces are tighter, more ambitious and groovier than any record she has done before. The industrial effects of her previous work have vanished, replaced by electronic drums and regal horns, with vocals capable of flooring a forest.
The first single,
Dangerous Days
, definitely creates a catchier sound. The beat moves like a railroad train, chugging along through edgy verses and a belting chorus. Still,
Zola
Jesus isn't making a Katy Perry song here. Her personality and creativity are fully on display, just more focused than ever before.
Go (Blank Sea)
is another poppy number, with pounding drums and haunting, swirling
synths
that keep spinning in the background throughout the song.
Her vocals are clearer than ever too. On past works, she threw pronunciation and delivery at angles that made her voice exclusively an instrument, rather than a storyteller. Now, you can understand every lyric.
Ego
feels like the album's mission statement. Over a water drop beat, she sings,
"I used to think humility was everything/The only way through to all sounds/I fought against the ego."
She's cut loose from this struggle, fully embracing the ego that any artist needs to push themselves outside of their box. This doesn't mean that she's
lowballing
her delivery, though.
Nail
lets
Zola
Jesus show off her voice by limiting the instruments to heavy piano chords and foggy, electronic drums. For half of the track, she's out there singing with no music at all, and it's beautiful.
Zola
Jesus said she was listening to marching bands while working on
Taiga
. It may seem like a weird decision on paper, but she makes it work.
Hunger
recontextualizes
upbeat brass and classical strings into a rave.
Hollow
selectively uses horn blasts and rolling drums for bursts of energy in the chorus. I would love to see a school use one of these two tracks at a football rally. It would get every student on his or her feet.
Taiga
is a more mainstream album than people may be used to from
Zola
Jesus. But that is not a bad thing. This is not the sound of someone changing herself for success. Instead,
Zola
Jesus is crooking her finger, beckoning all of us to join her on the path up the mountain. With music like this, there will be many people willing to make the climb.
13 October, 2014 - 04:52 — Joe Marvilli