Music Reviews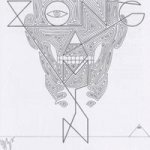 Zongamin Zongamin
(XL Recordings)
Buy it from Insound

Zongamin is Susumu Mukai a lone musician from Japan who's remixed the likes of Badly Drawn Boy and fits in nicely with the XL camp. Like so many of his peers he seems to have spent a hell of a lot of time listening to 80s electropop, collecting pin-badges and working out how to plug small boxes into each other. And although there's a suspicion of great profundity here, of some grand musical design, it's hard to avoid the feeling that there's an awful lot of attention to the shiny trappings of successfully camp crossover electronica - Avalanches anyone? - yet without any of the necessary heart and soul.
There are, no doubt, some great tunes on this eponymous LP and there's a fair chance they'll be coming soon to a radio-bed, advert or trailer near you. Opener Make Love Not War makes you think Lee Van Cleef's staring you in the eyes, or Clint Eastwood's about to shoot you. Whiplash, the sole track with vocals on it - someone shouting whiplash, as you might have guessed - is somewhere up there with Electric 6 or The Clash's Rock the Casbah for sheer wig-out madness, while J. Shivers Theme, a weird, whistled number, sounds pleasantly like it should be accompanied by the arrival and inevitable departure of the Littlest Hobo.
Meanhwile, Tresspasser is deep and scary, and New Song to An Old Story is exceptionally funky. Closing tune Mummies, is haunting and genial, a fitting closer. In fact, there's not really anything to complain about musically. Bits of it sound like Joy Division, other bits like OMD, which is equally not a bad thing.
That's the problem, though. These days, it's so easy to do pastiche, so easy just to take off the sound we heard as kids. And it's particularly the problem with funk when it comes round for the second, third or fourth time. Beck never sounded less sincere that on Midnite Vultures, no matter how high he sang and how many cricket pads he wore; Har Mar Superstar can strip all he likes, but he might still just be an elaborate practical joke. I certainly hope he is, otherwise someone's got a lot of explaining to do.
It's all very well doing funk, doing experimentation, doing irony, but where the hell's the soul? Where's the feeling or the commitment here? It's just too polished, too cold and distanced, too, damn post-modern. There's nothing wrong with loving Kiss, or trying to sound like Barry Manilow - Air have been doing it for years, and they sound brilliant. Only this is at least two years too late to be innovative, and just too noncommittal to be interesting. Which is a shame, because the Zongamin project is clearly the product of someone who knows his music and has a lot of talent. It's just that knowing your music, and loving it are not the same thing.
2 May, 2003 - 23:00 — Ben Bollig