Music Features
Chris Cornell: An Afterword
By Carl Purvis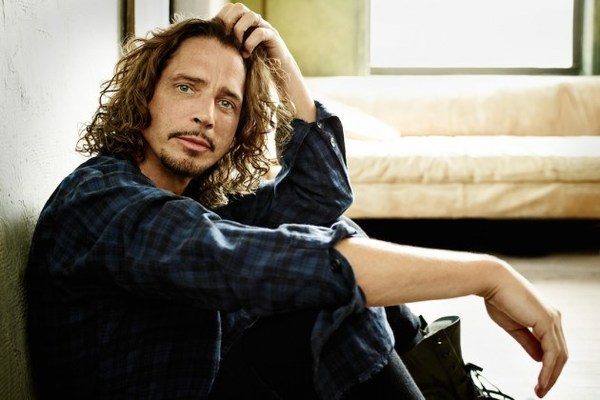 There've been times over the years where I've been asked to list my favourite bands, albums or songs. Every time I've answered, the results are different. I like to think I have a pool of bands, albums and songs that I consider to be in their own league, but to quantify them into a definitive list is impossible and dependent on a massive amount of different factors, whether they're spatial or temporal, mental or physical, or just generally what the mood is at that particular moment. One thing however has always remained consistent – the presence of Chris Cornell's work in the upper echelons of any lists I provided. That won't change.
Just to put a bit of background on my demographic - for anyone who is interested that is – I am a 26 year-old banker currently residing in Belfast. Soundgarden released two LPs before I was born, and disbanded when I was just six. My introduction to the band came in high school, when I started listening to Nirvana records. From there, the other bands from the Seattle Scene followed, and I immediately had a new branch of rock music to immerse myself in.
The sound had me immediately. The voices of Kurt Cobain, Layne Staley, Eddie Vedder and Cornell were unlike anything I'd been exposed to before. They were in their own segment of the paradigm, but each voice was different, transmitting inner pains and recusant motifs in truly beautiful fashion, with angst and overwhelming sentiment emanating from them in droves. The music behind the voices was another matter altogether, providing those voices with the most perfect of canvasses to work from. It's worth noting that Soundgarden's canvas was the most expansive one of the four mentioned, and that allowed Cornell's incredible vocals more depths to delve into, plumbing the psychedelic chambers of the metal motif and never wavering in its virtuosity.
I've had the pleasure of seeing Chris Cornell in concert three times over here in the UK – twice with Soundgarden and once just over a year ago on his Higher Truth tour. When with Soundgarden, he was a man of few words, delivering transcendent vocals over his band's ranging, steamrolling sound and making it look uncannily easy. He came to play songs, finding the perfect medium between breakneck cool and shrouded vulnerability.
With the solo show, he was a different animal entirely. He arrived in a playful mood, precluding most songs with their back-story and showcasing a relaxed, exquisite wit, and it genuinely felt like an evening with Chris Cornell the man, not the musician. One particular monologue from him stands out for me that night, not because it was anything overtly significant or deep, but simply because he had the entirety of the Belfast Ulster Hall in stitches of laughter with a tale about how he believes his guitars give each other shit when they're packed away in the tour bus after a killer show. It was an unflinchingly candid show where requests where suggested and immediately acted upon. It was an absolute pleasure to be there.
Obviously, on all three occasions, the voice stunned. Its range was supernatural, and its capacity to conduct mesmeric. Seeing him sing Beyond The Wheel to close the show in Manchester 2013 was the most startling performance, where the raw power and sheer ability floored me. The voice is the embodiment of an oxymoron; equal parts silk and gravel, and the unerring control over such a wild beast never fails to stun.
His ability as a songwriter was equally as impressive. The tracks on the Temple of the Dog record are magnificently structured, further hammering home the point that something abrasive can be delicate and alluring. Putting on Say Hello 2 Heaven while getting ready for work immediately after I woke up to the news of his passing was an instinctive thing to do, and it brought tears to the eyes. But then again, it's not the first time that song has done that. The tenderness at which Cornell's monster of a voice delivers the vocals in that track is remarkable, and one lyric in particular – 'So I blow out the candle/And I put you to bed' – is dispatched so sumptuously it rarely fails to get a poignant rise out of me. Temple of the Dog was formed in 1990 as a tribute to Cornell's late friend Andy Wood, and the songs on that record are as essential a tribute as could have been possible.
With Soundgarden, Badmotorfinger stands as one of the most furious guitar records recorded. Superunknown's songs increased the size of the hard rock sphere massively, breaking down boundaries and meshing styles together with alarming fluidity. With Down On the Upside, although a different direction had been taken, the skillful meshing of acoustic and electric instruments, the control of befuddling time signatures and overall fluency of the record stood firm. His solo work was littered with excellent songwriting, and even in some of the releases that perhaps didn't get the critical acclaim of others, there was always examples of Cornell's deft songwriting hand. His Bond theme for Casino Royale - You Know My Name - is one of the best, and the only one sung by an American male.
It may seem strange to some people that Cornell could play a show, tweet prior to it as normal as can be, and take his own life just hours after finishing it. It may seem selfish to others, leaving behind three children and a wife amongst other loved ones in his life. As someone who has battled depression himself, I can understand that it isn't something that can just be shaken off or beaten. It's the darkest of many headed monsters, and every time you decapitate one of its heads another one replaces it, more crafty and imposing than the one before it. I'm not for one moment trying to say I understand how Chris was feeling or how anyone who suffers from mental illness feels, but from my own experience I can say that there are times you feel like you simply cannot win the battle.
By all accounts, Cornell had beaten some major demons in his life, most notably the addictions that are intrinsically associated with the particular archetype he was part of in the early nineties. The Chris Cornell exposed to the public eye reflected this, and the show I eluded to earlier in this piece gave the impression that he'd been able to confront his own personal problems and come out of the other side much better for it. But again, I can empathise with the vitality of a façade - and the various versions of it – when dealing with a mental illness.
Over the past few years, the world of music has lost icons, legends and pioneers that deserve all of those accolades attributed to them. When Bowie, Prince and Scott Weiland passed last year, I felt moved and sad, and reflected on their careers by listening to their music – sometimes in a different light – and found my own way of celebrating their lives and the contributions those lives made to so many others. With the passing of Cornell though, it affected me much more incisively, and it's understandable when considered he's the first of my own personal icons – someone who has helped shape my passion for music and the limbs branching from it – to pass away.
Make sure you listen to Temple of the Dog, to Soundgarden, to Audioslave and to the rest of Chris Cornell's back-catalogue over the next few days, and reflect on a true master of the art and one of the best rock voices of this or indeed any other generation. Say Hello 2 Heaven, Chris. There are some fucking good voices up there.
19 May, 2017 - 22:10 — Carl Purvis