Music Features
Efterklang: Live at Sheffield Corporation
By David Coleman
Efterklang isn't a particularly quiet band. Tonight there are seven musicians onstage, each and every one making a beautiful racket. At times five band members are singing simultaneously. The man at the front of the formation, Casper Clausen, spends a large chunk of the evening jumping up and down, bashing misshapen cymbals and wailing into his microphone. Yet amongst all of this chaos, the guy next me still manages to take offence when I whisper something to a friend. I guess there's something about an Efterklang show that makes doing anything other than watching the band in awe something of a faux pas. It's like going to the cinema, only louder. And better.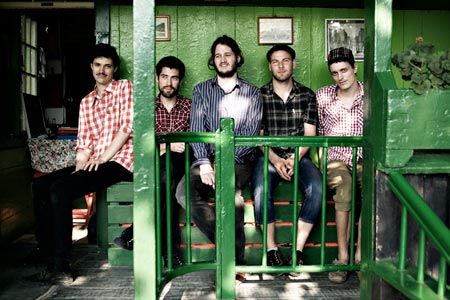 The evening begins with a short set from Our Broken Garden a.k.a. Efterklang's touring pianist Anna Brønsted. Her specialty is haunting piano music complemented by a rich and beautiful vocal, which she manipulates and double tracks by using loop pedals throughout the set. It's gorgeous music, and a complete – and welcome – contrast to the grimy, black surroundings of Sheffield's Corporation venue. She's just signed to Bella Union in the UK and her first EP is coming out soon. Remember the name.
Having swiftly closed up a surprisingly well stocked Rumraket store, the boys and girls of Efterklang take to the stage dressed in an unusual beige and brown uniform. Any puzzled looks in the room are soon erased as the band works its way through one of the finest sets I've had the pleasure of witnessing in the last 12 months. Highlights are plenty, but I'm pretty sure that the spine-tingling Caravan (from last year's Parades) is my favourite moment of the night.
Aside from the great music, it's worth pointing out that an Efterklang show is great fun to watch. These musicians clearly love and believe in what they are doing, and their enthusiasm is truly infectious. Everyone seems to play half a dozen instruments, too, which is always fun to watch. Even drummer Thomas Husmer rises from his stool on occasion to offer vocals and trumpet. How many other drummers can do that?
Aside from the uniforms there's nothing remotely gimmicky about tonight's performance. It's clearly well rehearsed – the musicianship is taut and impressive – but at the same time there is a feeling of spontaneity that almost makes you believe that Efterklang is playing these songs for the very first time, just for you. If only all live music was this special and, crucially, this much fun.
5 April, 2008 - 19:59 — David Coleman