Music Features
Gary Numan: Live at The Masonic Lodge
By Juan Edgardo Rodriguez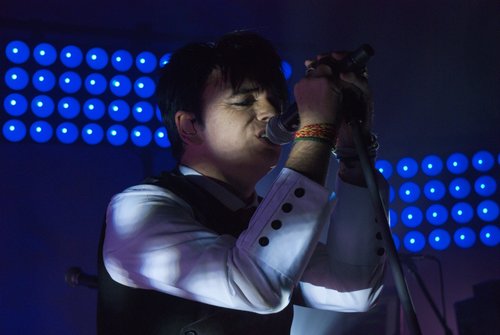 As opposed to all the immortal heroes we revere as shadows of our past, we always accept that they were of a particular era or sound. It's nigh impossible to think of electro-pioneer Gary Numan as someone who merely planted the formative ideals of gothic-industrial music, simply because his image has been transposed in so many ways that it's almost easy to forget that Numan was simply ahead of his time.
As a rejuvenated Numan played a rousing set of metallic-tinged industrial at the Masonic Lodge in Hollywood Forever, it became clear that the venerated legend wasn't interested in exuding the thin-iced fragility of his pinnacle as a solo artist. His brawny physique and almost caricature-esque, Stabbing Westerward-looking backing back depicted the kind of post-grunge metal slush that rose like a plague ever since Psalm 69 and Broken EP gave it a commercial stance. It just doesn't quite mesh with the cathartic emotional release of Numan, whose poetically dark musings should never be associated with any sort of testosterone-fueled hi-jinks.
But for better or worse, that's why Numan is so well-liked - he can appeal to the punks, the jocks, and the everyman alike. Even to a stripe-sweater loving guy like myself, who looked horribly out of place surrounded by facial-punctured fans in a sea of black; it may have felt like I was part of a masquerade ball sponsored by Hot Topic, but I still felt like I belonged.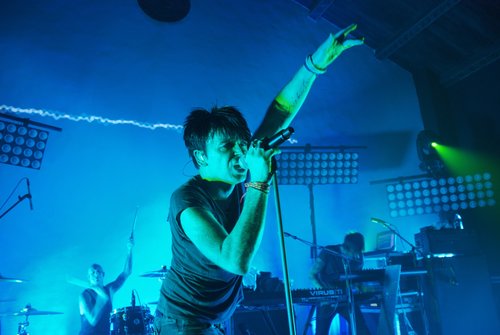 It's daring to play with both contrasts, but it makes sense considering Numan isn't the type to foster any deliberate mystique. The juddering sound of his new record, Splinter (Songs from a Broken Mind), stems from a serious bout of depression, and though it's hard to encrypt its dour message in a live setting, the pulverizing rockers and grizzled ballads are played with a force and a purity that never seems indulgent. And Numan himself seems to be relishing his celebrated return, cracking an emphatic smile every time he finished a song to the adoration of his fans.
He may appear to be an unassuming fellow, but onstage, Numan highlighted the kind of heroics associated with the rock n' roll persona to full effect. Displaying a commanding presence, he strutted his goods in serpentine movements to a bevy of aroused women (a particularly excited one chomped her mouth as if biting the sting to submission), swinging the microphone overhead and extending his panoramic stares across the whole room. As he repeatedly drenched himself with bottles of water, his ethereal vocal delivery soared above the grimy tumult without showing the slightest signs of age.
Aside from an encore of classics from his new wave-defining days, which sounded heavier due to the current live setup, Numan treated his back catalogue with the veneration it deserves despite sounding somewhat out of place. He did, after all, always emulate the use of synths as if he were using guitars, so it wasn't that much of a disservice. Nevertheless, the roughened exterior of his newfound live experience is one that he influenced without actually putting it into practice. And now that he does, it almost evokes a surrealist effect that's both confounding and beautiful.
Photos by Lauren Micaela Eubanks
29 October, 2013 - 04:22 — Juan Edgardo Rodriguez