Music Features
The News, Digested (23.02.2009)
By No Ripcord Staff
Welcome to the second of our weekly news digests. It's been a busy seven days in the music industry so rather than bore you with a tedious intro, let's just just get straight to the key stories.
. . .
Touch & Go Closes Distribution and Manufacturing Arm
By David Coleman

The terms 'financially stable' and 'ethically sound independent record label' don't usually appear in the same sentence, but legendary Chicago label Touch & Go has been the exception to many rules over the course of its 27 year history. Last week, however, the indie music world was hit by news that T&G is closing down its manufacturing and distribution arm, which provided a valuable service to a large number of respected indie labels (Drag City, Kill Rock Stars, Jade Tree, the list goes on...)
Early reports suggested that Touch & Go would no longer release new music, although a statement directly from the label has clarified this point:
"Touch and Go will be returning to its roots and focusing solely on being an independent record label. We'll be busy for a few months working closely with the departing labels and scaling our company to an appropriate smaller size after their departure. It is the end of a grand chapter in Touch and Go's history, but we also know that good things can come from new beginnings."
Upcoming releases from Mi Ami and Crystal Antlers are unaffected, as are those all-important Jesus Lizard re-issues.
. . .
$99 Video Service To Launch
By Miguel Morelli
Next New Networks is launching a new indie music video web site called $99 Music Videos, a promotional platform for indie musicians who make low budget videos. The digital content provider from New York has partnered with Verizon for the launch, and wants artists to upload their videos for the public to rate and comment.
Anyone can submit their videos, and the site will have some breathing room with Verizon's ad dollars to gain the public interest at its own pace. This isn't completely new territory, but Next New Networks' Co-founder and Creative Director Fred Seibert was MTV's original creative director and subsequently held the role of president of MTV Networks Online, so there's a good chance the service will take off. Check it out! [Washington Post]
. . .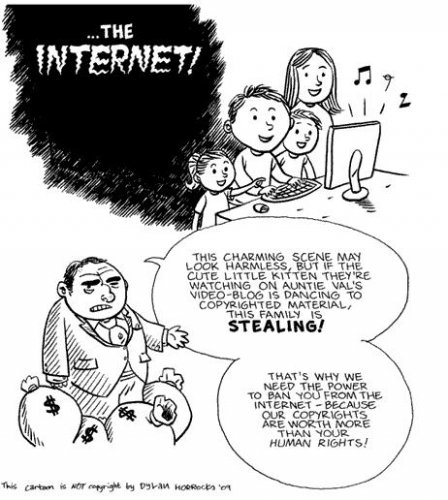 The Pirate Bay On Trial
By Miguel Morelli
The Pirate Bay's operators are standing trial in Sweden, for "assisting copyright infringement". Things have been going well for TBP, and by the 5th day of the proceedings, the prosecution has slipped up twice by trying to sneak in surprise evidence during the trial. This time, the judge has ordered the prosecutors: 'If you have documents which you eventually plan to use, you need to hand them over now.'
The trial stands for online file-sharing rights, for there are many torrent sites online that are at risk if The Pirate Bay is convicted. So far, the prosecution has failed to prove the existence of copyrighted material on TPB, and any connections between the operators and users who upload illegal copyrighted material. You can follow the trial via live audio feed and twitter. [Slashdot]
The rather excellent cartoon accompanying this piece has been copied from a larger version which is currently residing on the Pirate Bay's home page. Thanks to its creator Dylan Horrocks for getting into the spirit of things and offering it up copyright free.
. . .
MTV Faces Up To YouTube/Google
By Miguel Morelli
MTV International will be introducing a new online music video repository to the UK in the third quarter of the 2009, purported to be the future leading site for music videos. MTV International has already launched a beta site in the US, MTVMusic.com, garnering 500,000 users in its first three days.
The move comes as MTV's parent company Viacom continues its legal battle against YouTube and its parent company Google, since YouTube hosts thousands of illegal Viacom videos. Users on the new MTV video site will have social bookmarking tools and links to digital distribution sites where they can buy music. Does it sound like a good move? Or should we stick to Youtube? [Marketing Week]
23 February, 2009 - 21:47 — No Ripcord Staff