Music Features
The Faint: Live at Lux, Lisbon
By Miguel Morelli
The Faint's latest tour promoting the new album Fasciination allowed for a stop at the high profile Lux disco in downtown Lisbon, Portugal on December 4th. With a wide repertoire, spanning almost a decade of hit albums, The Faint smashed even the highest expectations, with non-stop electronic dance rhythms and faithful presentation of their studio quality tracks.

Obvious right away was the LED display behind the stage, always flashing synchronized patterns along with the music. As soon as the floor was packed and chanting, The Faint ripped into their first song, Agenda Suicide, from the 2001 album Danse Macabre. The band was tightly knitted, the bass was deep, dancing was instantaneous.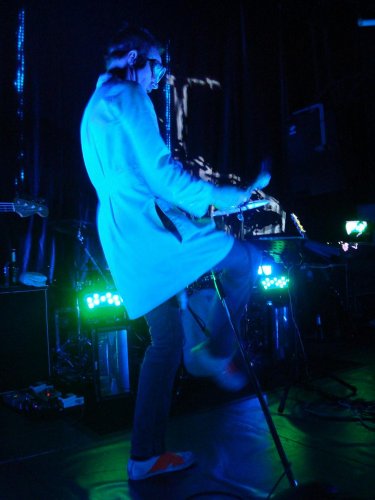 Vocalist Todd Fink was almost creepy, giving off an air of eccentricity with a pair of goggles and what resembled a lab coat. Retro dance beats from Clark Baechle were punctuated by electronic leads by Jacob Thiele, which gave a playful touch to the heavier guitar and bass. Dapose and Joel Petersen combined efforts to produce a rock solid bass/guitar chord progression. After Drop Kick The Punks, from the 2004 album Wet From Birth, and Take me to the Hospital from Saddle Creek 50, a compilation in 2003, The Faint presented their newest album and tour focus Fasciination, released in August 2008. The likeness to the album sound-quality was impressive, credit must be given to the technicians.

Even more interesting was the effect of Dapose and Joel Petersen trading instruments the whole concert. Dapose from bass to guitar, Joel from guitar, to bass and then keyboards. Quite the multi-instrumentalists. Forever Growing Centipedes, Psycho, Get Seduced and The Geeks Were Right stood out for as highlights from the new album. It was a treat to hear Worked Up So Sexual from Black Wave Arcade, the first album that used their characteristic synth keyboards.

There's nothing better than grinding electronic distortion, danceable beats, and memorable tracks. The Faint delivered on all three, cohesively, and delighted eardrums with perfect equalization to boot! Highly recommended if they're in your town, and of course, the CD is available digitally on their website.
13 December, 2008 - 18:05 — Miguel Morelli