Music Reviews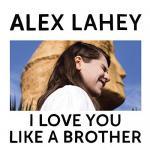 Alex Lahey I Love You Like a Brother
(Dead Oceans)

How do you follow up on the buzz and hype of your excellent first EP? If you're Alex Lahey, write 10 songs in the same mold that are even better. Her debut album, I Love You Like a Brother, is chock-full of catchy tunes, clever wordplay and guitar riffs galore. It's the kind of record that sounds classic and fresh at the same time, with a high-energy pulse that's made for bouncing around a club.
Every Day's the Weekend wastes no time in getting its sharp, punky guitar line stuck in your head. The shout-out-loud chorus is perfect for a song about the shine of a new relationship. Everything's so great that all worries and responsibilities fall by the wayside. The title track hits even harder and faster, words speeding along at a breakneck pace. I Haven't Been Taking Care of Myself feels like a rockier take of Mr. Blue Sky. It's got that same infectious energy where you can't help but dance.
A strong part of Lahey's appeal as an artist is how she finds an original way to talk about love and romance, but without breaking out a thesaurus. Take Perth Traumatic Stress Disorder, which wins best song title of the year. Over a fuzzy melody and rapid percussion, she sings about how bad break-up left a stain on the eponymous city for her. "Perth is lucky that she's pretty / Otherwise, I'd hate that city/The only place my heart's been torn in two," she sings. On another track, her partner treats her so poorly that she feels like she won the Lotto in Reverse. Her unique takes on those feelings hit hard and don't need any further explanation. On Let's Call It a Day, her opening lines are instantly relatable: "You're on my nerves/And we're three drinks in." Everyone's been on that date. Only Awkward Exchange fails to bring a new perspective to this well-covered topic.
Most of the album lives in a pop-punk world, but Lahey can stretch her sound when the song calls for it. Backpack rides guitar scratches right out of Rick Springfield's back catalog. Halfway through, sweeping synths burst out, building to an eruption at escape velocity. It's the best Killers tune that they never recorded. I Want U may have a Prince title. But with its singalong harmonies and sunny vibe, it hovers far closer to early Beatles and Beach Boys. The closing number, There's No Money, trades out her power chords for gentle picking over clacking drums. Lyrically, it's a standout as well, as Lahey struggles with lack of money and lack of momentum in her life.
I Love You Like a Brother is the type of catchy, kinetic album that's natural and effortless. Once you hear these memorable melodies, they'll feel like they have always existed. It's a powerhouse of a debut, combining sly wit and punky riffs. It's a statement that will have no trouble garnering the attention it deserves.
23 October, 2017 - 04:39 — Joe Marvilli