Music Reviews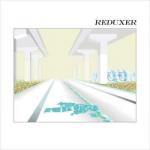 Alt-J Reduxer
(Atlantic)
Buy it from Insound

What makes an artist think their album needs a do-over? Whether it comes as a result of wanting to further explore their sound, or a chance to fix some errors, then Alt-J have become the last band to jump on the train.
Although it's still not clear why Alt-J felt the need, given that Relaxer was a refreshing departure. They swapped their car-advert-friendly singles for a more insular and experimental record, which was quiet and low-key while also building upon their signature sound. The band didn't quite hit the mark everywhere they'd have liked, but for an act that most people had figured out, it was a welcome turn.
Now there's another turn, although it's one that would have probably made more commercial sense the first time around. By bringing in new producers and hip-hop features, it's another ambitious attempt to change Alt-J's reputation.
But unfortunately, on Reduxer, their own work ends up being almost entirely redundant. There's a feeling that none of the guests are really saving their best work for a reworked Alt-J album, while for their own part the band has to tone down any of their own work to a point that it's often anonymous. At points, the instrumentation is little more than a subtle beat under a verse as the chorus returns before the end. It raises the question of why make this into an 11 track album (up from eight on the original album) rather than just a tight, high-quality EP.
There could have been a great EP made from some of the great tracks here. Deadcrush is given an injection of life thanks to a complete reinterpretation and great feature from Danny Brown, while both versions of Hit Me Like That Snare sound more fully-realized than the haphazard original. Kontra K and Pusha-T are also noteworthy additions, although Reduxer never sounds as exciting as this project should.
If returns from the Avalanches and Gorillaz have brought the indie and hip-hop mix back into fashion, then Reduxer is just a pale imitator to those records. It lacks the bombast and color of those projects, and it feels very much like what it is; the core of a Number 6 album with some verses stuck on top of it.
There is a decent chance that, for those who were disappointed by Relaxer, this will be at least a step in the right direction, while fans of that album will probably fail to see the point of a do-over. There are glimpses at what Alt-J may attempt in the future if they want to continue collaborating, and few would complain if that's the case given the high points here, but at present, Reduxer is full of missteps from a band who seemingly can't help themselves at this point.
18 October, 2018 - 04:25 — Matthew Smith