Music Reviews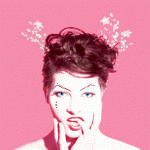 Amanda Palmer & The Grand Theft Orchestra Theatre Is Evil
(Cooking Vinyl)

Is this the way they say the future's meant to feel? Or just 24,883 people funding a project on the internet?
I had the every intention of being perhaps the first writer to cover Theatre Is Evil without resorting to discussing the money issue. Turns out, I'm not that good a critic, especially when there's enough material in the subject to more than meet this review's word count.
Of course it goes without saying that the numbers really are quite astonishing (record breaking crowd-funding figures, over a million dollars donated, a slew of articles questioning whether this spells the end for the record company as we know it, or if such an achievement was only possible because of the support of Palmer's original record label – no matter the acrimonious nature of their break up). Plus there's an almost irresistible intrigue to the forensic poring over of figures to determine just what Palmer's been doing with the cash (not that I'm going to weigh in on the whole not paying musicians issue as for one I can sympathise with both sides of the argument, and on the other hand that story has already been covered so much more eloquently here).
Most relevantly though, is the fact that such financial freedom has allowed Palmer to indulge herself and make the album that she's always wanted to make…
…In other words, Theatre Is Evil is a very long record. Far too long.
It's probably fair to assume that that won't be an opinion shared by the majority of the 24,883, who were no doubt delighted with Palmer's generosity in returning on their investment (extending not just to the CD-stretching length of the album itself, but assorted extra tracks and singles, amongst a whole onslaught of other stuff). For a reviewer though, it's a bit of a frustration, and not because it means more work to plough through it all. Rather there are more than a few moments where such long-windedness deprives the best of Palmer's material of its punch; take, for example, Bed Song, a pleasant little waltz of a song that, like most of the tracks here, stretches itself out for more than six minutes despite running out of steam after half that time.
To get the most enjoyment out of Theatre Is Evil, the best advice is to divide it up into more manageable chunks. Not just to place less demand on the attention span, but in order to make it harder to notice how similar everything sounds. As it is, much of the album's contents has a habit of bleeding together to form an indistinct mass. Partially, this is down to Palmer's choice of production technique. Considering the fact that not since the hedonistic excess of Be Here Now (or perhaps even the bloatedness of 80s stadium rock) has money been so integral to the discussion of a record, it's ironic to note that there's a deliberate, almost wilful cheapness here, with Palmer's vocals mostly sounding as if they've been recorded through a tin-can, presumably so as to not let her stridency overwhelm everything else. Similarly, there's the issue that, with a few exceptions, the songs themselves stick very much to a formula; in the majority of each track's six minutes-or so run-time, you'll come across a restrained, studied opening, giving way to a full-on, part joyous, part pissed-off, invitation to scream/shout/sing-along. (There's a good reason why Palmer's shows are entertainingly raucous affairs, and it's not down to her background in performance art).
...Actually, to be fair to Palmer, as Theatre Is Evil progresses, a few tracks, such as Trout Mask Replica and Berlin, veer away from the kooky pub knees-up and more towards the quietly dramatic, lounge-bar baroque. But it generally seems to be one or the other, perhaps suggesting why the piano remains relatively underappreciated in pop music history – outside of a classical context it's not flexible enough to be good for anything other than the spritely and jaunty or the quiet and melancholic.
With such limitations, be they self-inflicted or not, the devil is very much in the details, and, dodgy production decisions aside, these are fairly well-handled – occasionally swapping the piano for some very obvious, and 80s, synths makes the samey-ness easier to digest, as does the slick work of backing band, The Grand Theft Orchestra (even if calling them an Orchestra as such seems unnecessarily grandiose). And as for those lyrics that we're so encouraged to holler along to? Well, they do an excellent job at summing up why Palmer is so beloved, and so reviled. Even in the space of a single verse they can encompass impressive acid-flecked wit, slightly sarcastic self-pity, staggering affectation and really irritating forced rhymes. They might not stand up to the close scrutiny that Palmer's reputation as a particularly literate artist invites, but are still good for raising a laugh or two.
Honestly though the picking apart of such minutiae isn't really that important. Theatre Is Evil is solely targeted at charming Palmer's already sizable fan-base (if anybody else likes it then it's a bonus), and it's fair to say that it more than succeeded there.
As for attempting to provide a reasoned and removed critique of the album for the unfamiliar and unconverted? It's a bit of a tall order, considering that the album was considered so controversial and contested before anybody had even heard a note of it. For my part, it's taken a couple of weeks of fairly solid listening before I felt enough distance from the background noise – Palmer's refreshingly open/annoyingly incessant use of social media, the perhaps obsessive and improper openness she's encouraged from her fan-base, and, more pettily on my part, her disparaging comments about music critics - to even consider discussing the contents remotely fairly. And after all that, what's really striking about Theatre Is Evil is that how odd it is that such debate has been stirred around an album that, in the long run, probably won't change much at all. Yes, it will no doubt inspire other musicians, both established and new, to attempt to forgo the trials of dealing with record companies in favour of crowd-funding (and fair play to Palmer for using her success in the field to draw attention to more low key projects), and for a sizeable amount of people it will no doubt be an important record (which is, no question, great – with the album as a format, and music in general, becoming side-lined and subsumed into the background, it's a wonderful thing whenever a record comes along that people can cherish and feels a genuine connection to). But, even taking into consideration the album's impressive sales figures, it is something of a niche concern, that won't appeal to as wide an audience as the abundance of articles about it suggest. Nor is it much of an artistic leap forward for Palmer - the lyrics may be self-consciously (and, to some ears, tiresomely) 'outrageous', but there is a definite musical conservatism in there.
Perhaps the best way to approach Theatre Is Evil is not even as an album, but rather a collection of songs – all fairly similar but often good, sometimes very much so – that have merely been bunched together and distributed to a grateful audience. Taken as such, it may be the perfect product of the mp3 age, but it doesn't serve as a convincing argument against the record industry as we know it – one suspects that the critical distance provided by a label would have resulted in a less generous work, but a more manageable and satisfying one - but then it would have been foolish to expect so much from one album, no matter how overstuffed its contents, or obsessive its fans.

5 October, 2012 - 08:46 — Mark Davison