Music Reviews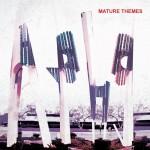 Ariel Pink's Haunted Graffiti Mature Themes
(4AD)

Two years on from the album that transported him from the bedroom to the Billboard 200, Ariel Marcus Rosenberg finds himself in a strangely unfamiliar situation, as his burgeoning fanbase is now more divided than ever in terms of its expectations. A section of recent converts are doubtless hoping for ten variations on Round and Round, while some long-term fans will want to see a return to the more radical experimentation and downright weirdness of his early days. If Mature Themes does just one thing consistently, it demonstrates that Ariel Pink and his Haunted Graffiti bandmates have very different ideas. I don't think anyone expected a record quite like this.

Mature Themes is a misnomer, of course. Lyrically, the album is dominated by moments of puerility – "suicide dumplings dropping testicle bombs" hardly sounds like a solution to the global economic crisis, while Symphony of the Nymph (sample lyric: "my name is Ariel and I'm a nympho") is neither shocking nor particularly amusing. Elsewhere, Schnitzel Boogie sees the LA native paying tribute to Central European breaded meat cutlets. And it lasts for over four and a half minutes.
In stark contrast, Only In My Dreams, Baby, and Mature Themes present Pink in a far less seedy light. On the title track, he even goes as far as earnestly proclaiming "for I solemn devote myself to thee". Twenty minutes later, on Symphony of the Nymph, he's admitting "I can't get enough of those bitches". It's that kind of record.
It's difficult to come down too hard on Ariel Pink for his lyrics, however, when you consider how effortlessly he shifts from one genre to the next musically. There are few bands capable of traversing the terrain of popular music with the grace of Ariel Pink's Haunted Graffiti. Soft-rock, blue-eyed soul, 80s gothic, synth-pop, new wave – Pink's imagination knows no bounds, and his band is adept at taking him wherever he needs to go. Indeed, Pink's greatest strength is probably his ability to suggest a specific genre or particular era without creating a fully blown copy of it. Mature Themes celebrates many of his favourite artists, but it is not an homage to anyone or anything. That is its great achievement.
Read ten Ariel Pink reviews and you will find yourself drowning in comparisons, as critics strive to nail the sound of particular song – Hall & Oates meets Devo, The Cure meets The Bee Gees, Bauhaus meets, I don't know, Charles & Eddie. It's a fun yet ultimately futile exercise, as even on relatively faithful cover versions like this record's Baby or Before Today's Bright Lit Blue Eyes, Ariel Pink always sounds most like himself.
In using a giddy spectrum of classic ingredients to carve out his distinctive niche, Ariel Pink has become the acceptable face of retro. Long may he continue to confound expectations.
20 August, 2012 - 09:14 — David Coleman