Music Reviews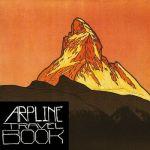 Arpline Travel Book
(Sancastle Music)

Arpline is an indie five-piece from Brooklyn, New York, whose music blends elements of electronica, shoegaze and industrial rock. On their debut long player, Travel Book, their chugging pop-rock is awash with synth squiggles, hazy reverbs and a big room sense of space.
Unsurprisingly, two of the best tracks are the singles Make It Rain and Fold Up Like A Piece Of Paper. The former is infectious psychedelia with blips and bleeps which sound like they are taken from vintage computer games; the latter has a racing drum beat, foggy synths and a sense of dreamy urgency. Parts Unknown also stands out, mainly due to its strident polyrhythm. The more subtle tracks like Cap and Rope are more affecting despite appearing less impressive at first, maybe this is to be expected in the wake of the blow-up sound wall which props up some of the album's earlier tracks.
Travel Book was produced by Chris Coady (Delorean, The Yeah Yeah Yeahs and TV On The Radio) and, to these ears, there's a connection with bands like Arcade Fire and Joy Division. Arpline's laid-back New York cool, late-70s style feedback and shimmering, quirky synths should help to build the following of a band whose music is occasionally messy, often intricate and sometimes both at the same time.
9 June, 2011 - 06:14 — Gary McGinley