Music Reviews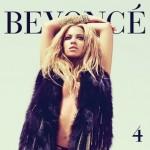 Beyoncé 4
(Sony Music Entertainment)

Beyoncé Knowles, former lead-singer of Destiny's Child and solo superstar in her own right, appears to be on something of a career high in the UK at the moment. The buzz around her has definitely grown since her crowd-slaying performance at the Glastonbury Festival; it's amazing how enthralling it can be to watch someone strut around the stage without even attempting to pretend to sing whilst their own voice plays blatantly in the background. In fairness, the bits which she did sing live (the verses, mainly) were just as impressive and she used her formidable stage presence to work the crowd like the seasoned pro that she is.
It comes as something of a letdown, then, that the music on 4 doesn't come anywhere close to replicating Beyonce's live energy and glitzy showbiz persona. As the natural heir to Diana Ross' diva posturing – and no stranger to girl-group infighting or allegations of plagiarism – Beyoncé has carved a niche for herself an R&B singer with a huge pop audience. Hits like Crazy In Love, Déjà Vu and If I Were A Boy have seen her rule the charts and airwaves like a pop colossus. It's unfortunate that, by comparison, her recent music feels like more of an afterthought than the all guns blazing tour de force that some reviewers would have you believe.
1+1 opens the album with the soul-meets-rock sway of 80s Prince. After a passable start, it's unfortunate that the repeated "make love to me" lyric of the chorus is more cringe worthy than seductive. We are then treated to plodding ballads, I Care and I Miss You, whilst the MOR influence of Ryan Tedder lurks menacingly in the production despite his lack of involvement. Marginally better in construction is Best Thing I Never Had - a song which seems to have brought the king of 90s love songs, Babyface, out of hiding. Even the presence of two of pop's more colourful characters, Andre 3000 and Kanye West, on Party fails elevate the track beyond the mire of mediocrity which pervades the entire album. The result of such uninspired collaborations is that punchiest track here, Run The World (Girls), with its playground chant and squiggly sample, is buried beneath a mountain of dross. The only other track worthy of consideration for a place alongside the big singles for which Beyoncé is known is End Of Time, which has a percussive Afro-Caribbean stomp and smooth vocal harmonies. The less said about the egotistical power ballad, from the pen of Diane Warren (no less), I Was Here, the better.
Beyoncé may be an R&B singer but she is judged by the same criteria as pop tarts like Katy Perry, Rihanna and (former cohort) Lady Gaga. The sound of 80s and 90s soul is prevalent on 4, but instead of presenting a modern take on these sounds, the tendency is to veer into pastiche which, by its very nature, is presenting nothing modern. Where this album should be fresh and current, it sounds tired, repetitive and uninspired. Beyoncé is fortunate that the pull of her star power is probably enough to sell this record on its own. She must be thanking her lucky stars for her headlining slot at Glastonbury which cleverly glossed over the fact that 4 is that rare thing: an R&B album with no soul.
18 July, 2011 - 08:05 — Gary McGinley