Music Reviews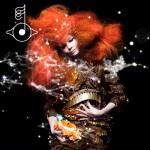 Björk Biophilia
(One Little Indian)

Icelandic iconoclast, Björk Gudmundsdottir, first found international solo success with indie-pop sextet The Sugarcubes before Debut catapulted her to solo success in 1993. That record channelled the ecstatic rush of the dancefloor into a collage of different influences and turned her into one of the era's most unlikely stars. A string of superlative albums followed, peaking with the frosty sparkle and hushed micro-beats of 2001's Vespertine. Her subsequent output has been less consistent, with only a handful of gems to be found amongst Medulla's busy exploration of the human voice and the cluttered grooves of Volta.
Biophilia is about as individual as an album can be; it utilizes bespoke instruments, an Icelandic female choir and is a sometimes exhausting exploration of music, technology, nature and science. With commentary by Sir David Attenborough, the overall project encompasses live shows, workshops, and some much trumpeted iPad apps which explore the music and its corresponding themes. Every track is inspired by the natural world, as exemplified by Moon which is takes its cue from the lunar cycle. Its plucky avant-folk feel is reminiscent of Joanna Newsom but it fails to reach her baroque sense of songcraft. As a listening experience, Biophilia takes time to grow, but there is sufficient material to reward repeated listening. With its percussive gamelan-celeste hybrid, deep undulating bass and joyous drum 'n' bass wig-out, Crystalline is her best track in years. It's not the only highlight either, Mutual Core echoes the spluttering volcanic grooves of Homogenic and Virus sculpts a dream-like beauty from the relationship between a virus and its host. Despite its strengths, the album is exasperating in its inconsistency - some of the sonic experiments result in little of artistic value and wouldn't have made the cut on her early albums.
As part of her research, Björk attended several National Geographic lectures, but some of that time may have been better spent on constructing a stronger set of songs. It's a shame that her intimate sense of joy and wonder is lost when the music drifts into self-indulgence and pointless meandering. Dark Matter is nothing short of a mess, and the directionless melodies of Hollow and Solstice disappear as soon as you've heard them. This may have been a more robust album if she had drafted in a leftfield producer to help focus some of her flights of fancy in the way that Graham Massey, Matmos and Nellee Hooper did back in the day.
Despite some flaws in its execution, Biophilia does succeed in pushing beyond the already established album-singles-videos model, and the creation of a digital experience to compliment the music feels like a natural progression in the way that music is packaged and consumed. Ever the trailblazer and the artist's artist, Björk's singular ambition may well have provided a glimpse of the future.
24 October, 2011 - 09:19 — Gary McGinley