Music Reviews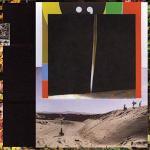 Bon Iver i,i
(Jagjaguwar)

Bon Iver never stands still. Each album has seen new collaborators, new sounds and new themes take centerstage. 22, A Million was a big leap from the band's first two albums, with electronic stutters and disarrayed melodies. For i,i, the band both goes further afield but also more smoothly melds the organic and the spiritual into this cybernetic landscape. While it's a bit more uneven than past records, there are many elevations into transcendence.
One of the best songs that shows the magic of i,i is Hey, Ma. Working off a metronome blip, a bed of gentle synths slowly blooms. It leads into what will certainly be a singalong chorus at shows for years to come. This nostalgic tune of homecoming, a 21st century Solsbury Hill, is one of the catchiest tunes Bon Iver has ever done.
Although Bon Iver has a reputation as the Justin Vernon show, he's worked over the years to make the project's collaborative nature come through. Nowhere is that clearer than on U (Man Like), a beautiful, simple, gospel-infused piano ballad. For most of the track, Vernon lets others take the lead, with Bruce Hornsby, Moses Sumney, and the Brooklyn Youth Chorus all getting great appearances on vocals.
Naeem is similarly low-key, with just the keys and Vernon's voice. But whereas U (Man Like) had light, dancing melodies, these keys slam down into heavy chords. During the chorus, Vernon just repeats "I can hear crying," his voice getting more and more passionate. Then, midway through, a driving percussion breaks through, the kick needed for the song to go from good to great. Marion is more stripped back, its acoustic guitar and strings a throwback to Bon Iver, Bon Iver. It's a moment of serene, heavenly intimacy in an album filled with big arrangements and sharp left turns.
As part of his attempt to fade into the collective, Vernon sometimes gets lost in those left turns, to the album's detriment. iMi loses the balance between strong songwriting and avant-garde noodling. Vernon's voice is distorted beyond understanding, synths crash in and out like waves, guest vocalists pop up, a horn section ascends and drops. There's just too much going on with no center of gravity to keep it focused.
Some songs lean too far the other way, with not enough happening to keep interest. Sh'Diah sounds like an inverted take on David Bowie's Subterraneans. It's an interesting, ambient track, punctuated with a saxophone, but goes on for too long. Jelmore comes off like a malfunctioning computer trying to write a piano melody in Pro-Tools. The glitches don't add the emphasis needed for Vernon's apocalyptic climate change warning, with him singing "How long/Will you disregard the heat?"
The other main climate change song, Holyfields, works much better. Static stutters like a thunderstorm from an open car window. Among the noise, Bon Iver pounds out the same synth chords, hammering home Vernon's lyrics. "Coming in very late/Just above our pay grades/You ask me not to pull alarms/We have to act our ages," he sings, calling for the threat to be taken seriously. i,i is Bon Iver's most directly political work yet, though it's more of a call to action than an attack. Only We really delves into frustration, blending together a sinister organ, dark percussion, and Vernon's voice into an angry banger about Donald Trump's presidency.
But if these songs issue a fearful warning, then Faith finds hope and resilience. The folktronica anthem moves through different layers and moods, with acoustic guitars leading into an angelic choir and distorted electronic tones rubbing up against warped vocal samples. In this blend of organic and digital, Vernon sings about how belief can fade, but also return: "I know it's lonely in the dark/And this year's a visitor/And we have to know that faith declines/I'm not all out of mine."
That melding of styles comes to the forefront on RABi, an evergreen Bon Iver song that could have belonged to any of the band's albums. The percussion gently bubbles up like water slowing boiling, guitars pick out notes like a warm-up jam and strings add color to the surroundings. It's a breezy conclusion, like the sea at sunset.
If 22, A Million could come off as sometimes cold and always anxious, then i,i is the warm flipside, with songs that float and flutter, that call for resilience rather than resignation. On the album, Vernon said, "It's about trying to take action, and literally help everyone else understand how important it is, because you can't do shit on your own." This record finds power in its collaborations. In Bon Iver's art, as in life, there's strength in numbers.
4 September, 2019 - 04:22 — Joe Marvilli