Music Reviews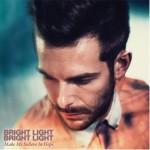 Bright Light Bright Light Make Me Believe In Hope
(Aztec)

The pop charts are currently in a depressing state. A lack of funds for artist development (or much else) has led record companies to put all their eggs in one basket by banking on generic or sure-fire sellers. As a result, much mainstream pop music has become bland, derivative and awash with "featurings" as artists clamber to jump on the Calvin Harris or David Guetta radio-house bandwagon. Thankfully, there are still interesting acts on the fringes, performing, experimenting and innovating, away from the media push that's given to tabloid trash like Chris Brown or Cheryl Cole. One such artist is Bright Light Bright Light AKA Rod Thomas, who's undergone something of a shape-shift since he released a string of folk-tinged singles at the tail end of the last decade.
The acoustica of his early recordings is gone, and in its place are wistful electro-pop, hi-NRG chord progressions and piano riffs that David Morales would be proud of. As dancefloor reinventions go, it's not quite of Screamadelica or Ray Of Light proportions, but glossy dance-pop feels like a better fit than his previous incarnation and the polished, personal feel of this record deserves to attract some new followers. Rod Thomas' profile has been gradually building after festival appearances at Glastonbury, Bestival and Latitude, and remixes for the likes of Ellie Goulding and Kelis. Make Me Believe In Hope has already won plaudits from Elton John (no less) and Bright Light Bright Light's first single was released on Popjustice Hi-Fi - a label that prides itself on the power of perfect pop. This record follows that early promise with a lovingly crafted collection of songs that share a lineage with many pop-house aficionados, from Depeche Mode and New Order to Pet Shop Boys and Saint Etienne.
It's clear that Bright Light Bright Light understands how dance music gives additional emotional resonance when paired with tales of heartbreak and alienation. Feel It is bolstered by swirling production - buoyed by Italo-house keyboards, beating bass and the diva wail of Mykal Kilgore - while Disco Moment is this record's Dancing On My Own. The male Robyn tag has been used in reference to Bright Light Bright Light recently, and, while not as edgy, this collection justifies such comparisons when its bittersweet love songs marry singer-songwriter introspection to sparkling slabs of dance music. There's a strong early house influence, from before it lost its innocence to the age of super clubs and superstar DJ's. Not all of the tracks are dancefloor barnstormers, there's a satisfying change of pace as the album winds down with Debris and Grace; the former is a lilting folk ballad, the latter a glimmering slice of electro-pop which would have sounded at home on Take That's last album.
While there's no denying that this is a strong collection, it has peaks and troughs like most records. The forlorn mood can become a little one dimensional when etched out over an entire album, plus the production occasionally sounds cluttered (in the tradition of 80s excess), but these minor quibbles don't stop this from being an enjoyable debut from an interesting new pop act. His East London art-house videos and latter day take on 80s and 90s house may not make Bright Light Bright Light a chart force to be reckoned with in these times of talent-show warblers and generic Euro-trance, but he's taken the high road by constructing a record that's classy, heartfelt and defiantly retro. Make Me Believe In Hope doesn't try to move pop forward in any way; it exists in its own bubble where pop is still in a post-ecstasy haze and the year is permanently somewhere between 1987 and 1995. Who says pop isn't what it used to be? On this record pop is almost exactly how it used to be. And in this case, that's no bad thing.
22 June, 2012 - 12:49 — Gary McGinley