Music Reviews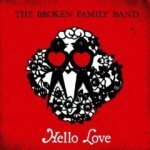 Broken Family Band Hello Love
(Track and Field Foundation)
Buy it from Insound

Much has been made of The Broken Family Band's transformation from UK's leading Americana standard bearers to indie rockers over the course of its past two albums. All there is to show for this progression on Hello Love is a couple of rockier tracks among a collection of slow burning country dance tunes and love songs.
Opening track, Leaps, is a fine example of the up-tempo country dance number that The Broken Family Band can do so well: bright and breezy, untroubled and unpretentious. Dancing on the 4th Floor is a bitter Pogues-ish romp. Slurred vocals and raucous guitars and drums relay philosophies of love songs "I hate these songs, like love reduced to couplets... like love needs a chorus to make it real... clearly all the songs are lies except this one".
This damning of serenades is ironic given that the other highlights of Hello Love are a couple of charming country tinged love songs. You Get Me, a beautiful coming together sung as duet with a breathy female Nina Persson soundalike, is a standout on the album. As is Give and Take, another simple love song adorned with female backing vocals, delicate keyboards, and a sweet simple guitar line.
But the treats are few and far between. Julian sounds like the bastard hybrid of The Bluetones and The Mavericks, which sounds worse than it is, it's really not a bad track at all, it's just completely unmemorable and you have to concentrate really hard to notice it, like the image in a magic-eye picture, and only when you squint and listen to the tawdry moaning of the lyrics, "I can't always rely on people coming good, but I can always remind those people that they should", do you realise that what you have had to concentrate on so hard to hear is the aural equivalent of paint drying.
The strained vocals, pulsing drums, and a jangly guitar hook, on Don't Change Your Mind chug along nicely, although never quite reaches the euphoric heights of the Shins style take off it promises, rather it wallows around the Snow Patrol mark.
Throw in Throw in Love Your Man, Love Your Woman which is a pedestrian rock song, the overindulgent guitar of Hey Captain, and the pointless meandering of Seven Sisters and you have an album that really doesn't reach its potential. Good songs are lost among the band's attempts to be something it is not.
The Broken Family Band's incomplete transition into a rock band has left it flip-flopping from one style to another, trying to distance itself from what it does best, with Adams and co never quite achieving their goal. While Hello Love ticks all the boxes, the Americana influenced tracks sound like nothing new for the band, but worst of all, the rockier songs sound like much middle of the road indie from the past decade. Hello Love is the sort of album that you listen to a couple of times when you first get it, but three weeks down the line its existence is a distant memory.
5 September, 2007 - 08:14 — Peter Hayward