Music Reviews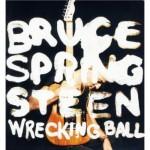 Bruce Springsteen Wrecking Ball
(Columbia)

Bruce Springsteen's longtime collaborator Jon Landau has described Wrecking Ball as Bruce Springsteen's "angriest album yet". And while that description may be apt for the first half of The Boss's 17th studio album, it later becomes clear that it may be his most spiritual album. It has been a long time since Bruce Springsteen has taken us from A to B so efficiently, and although the purpose and clarity may be slightly muddled in the anger on the earlier songs, there is plenty to love here; namely, the richest, most dynamic album to the legend's name in decades.
Absent in the new songs are the character studies that many of us rightfully associate with The Boss. Instead, we are immediately faced with a declaration, "we take care of our own," drenched in so much irony that it becomes a thematic question that unifies the album. The next several songs seem to suggest that, no, we don't take care of our own: Bruce's American everymen take after Wall Street and turn to crime in Easy Money, notice on the next song that "up on banker's hill the party's going strong" but that the working men are "shackled And drawn", and, on Jack of All Trades, declare that "if I had me a gun, I'd find the bastards and shoot 'em on sight." But beginning with the title track, the message shifts to American unity and persistence, at first represented through Giants Stadium. His lyric "all our little victories and glories have turned into parking lots" brings to mind Joni Mitchell's similar image on Big Yellow Taxi, but this time we are left with an unfaltering spirit, determined not to let any wrecking ball take away victories and glories, even if it takes away the representation of it.
Surrounding this intense—and intensely relevant—message is the familiar E Street sound, present despite only a few members appearing on the album, and only intermittently. Instead, there are powerful solos by Rage Against The Machine's Tom Morello and a collage of instruments , loops, and samples, so diverse that Bruce's ideal of America—one of different groups of people coming together as one—is present musically as well as lyrically. The feeling is that all of his work—solo, E Street Band, Other Band, Sessions Band—has come together, as if to mirror a unification of Americans. The dearly departed Clarence Clemons even makes two triumphant appearances (on Wrecking Ball and Land of Hope and Dreams) that suggest, as William Faulkner said, "The past isn't dead. It isn't even past." And that includes economic comfort and opportunity. It's as real and well-articulated a message as PJ Harvey gave us with last year's Let England Shake, and it comes at a time when fewer and fewer are willing to be lyrically confrontational despite the increasing necessity.
You've Got It, which follows Wrecking Ball, sounds like the work of a lyrically inept Springsteen imitator. Aside from a perhaps overbearing anger that muddles clarity on the album's first half, it is the album's only flaw. Luckily, You've Got It is followed by the breathtaking Rocky Ground which, with its surprisingly effective rap, is The Boss's most spiritual, beautifully envisioned, and paradoxically uplifting song since My City of Ruins. But on Rocky Ground, the congregation is back in session, and instead of the people rising up on their own, they decide to work together in times of such hostility to stay together, lest "blood on our hands will come back on us twice." But when Bruce tells you to "Find your flock, get them to higher ground" we know that our flock is everyone we care for, the "brother down on his knees" from My City of Ruins but also "the young men on the corner like scattered leaves" that we don't recognize. These days our leaders won't do it and circumstance grows more dire as the "flood water's rising and the kingdom's on fire," so the people do it themselves. The following songs, the re-worked Land of Hope and Dreams, and the camp-fire closer We Are Alive, where the ghosts of the oppressed come back to help a dead man come alive again, give the answer to Bruce's question. Perhaps our leaders do not always take care of us, but we have always taken care of each other, from the railroad strikes to the Civil Rights, and it's time for us to do so again.
In 1978 Bruce Springsteen told us he believes in a promised land, and in doing so, he made millions of listeners believe too. 34 years later, his gospel is no less effective. By the time Wrecking Ball ends, we're miles away from where we started and it feels like we're finally there. But isn't that what we've always loved about Bruce? He can paint the darkest, most hopeless pictures, take us through every agonizing detail, and somehow still let us know that everything is going to be alright. If you haven't been on board since Working On A Dream, get back on. If you haven't been on board since the E Street Band broke up, get back on. And if you haven't ever been on board…well, this train carries you too.
6 March, 2012 - 21:32 — Forrest Cardamenis