Music Reviews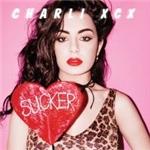 Charli XCX Sucker
(Asylum/Atlantic/Neon Gold)

It's funny to think that only a year ago, Charli XCX was a name known only within critic's circles and promoted mainly by a select demographic of indie pop connoisseurs. Last year's True Romance made it to numerous best-of lists, and the 2012 hit she wrote for Icona Pop, I Love It, was a top-notch slab of synthpop, but none of it was enough to translate Charlotte Aitchison's talent into much-deserved commercial success. But now, thanks to a certain Australian rapper and massively popular summer blockbuster The Fault in Our Stars, Charli XCX finally has an avenue through which she can leave her fingerprints on the pop world.
And on Sucker, those fingerprints are equal parts tar and glitter. Sucker is a one-two punch of wit and grit, as irreverently bratty as the lollipop Charli holds on the cover yet never impersonal, perfunctory, or insincere. Sure, carmine-lipped popstars chanting about not wanting to go to school might not be everyone's cup of tea, and the celebration of youth, rebellion, and excess so present throughout Sucker is certainly no novelty in popular music. But what's important—and so satisfying—is that Charli XCX grabbed hold of her revamped fame and used it to release a record that is genuine both in its pop template and punk tendencies. That genuineness is a sentiment that should be universally appreciated, or at least recognized as severely lacking in pop music today.
So now, with an audience of fans expecting the brash hookiness of her chorus in Iggy Azalea's Fancy or the frothy, star-gazing romanticism of Boom Clap, how does Charli deliver on Sucker's first song? She curses out those who were a little too hasty to dismiss her potential with a snarling, exalted ''Fuck you, sucker!''. Or perhaps she's sneering in the face of her newly-recruited fair-weather fans who expected more gloss and less naked attitude. Nevertheless, the title track is deceptive in its appeal, apparently inspired by the Ramones, Barbie, and Britney, according to Aitchison.
That melding of influences is part of what makes Sucker so memorable. Second single Break the Rules borrows from europop during the chorus' ecstatic techno build-up, and becomes a deliriously fun homage to kids gone wild. London Queen is shot through with Blitzkrieg Bop's punk moxie, while Need Ur Luv is all the more impassioned for its 60s girl group-inflected shoo-shoo-bee-doo backing vocals and bouncing rhythm. Lyrically, Charli XCX takes no prisoners and doesn't let wordiness get in the way of her sound (behold a particularly concise zinger on Breaking Up: "You had an ugly tattoo, and fucking cheap perfume''). And while Aitchison may not be one of the most vocally gifted singers, her voice conveys much more emotion than Ariana Grande's squealing acrobatics ever could (such is her commitment that on stand-out banger Famous she makes it sound like she's the first to bellow ''Come on let's lose control!'').
Not to belittle Ariana Grande's squealing, that is. Charli XCX is the latest in an ever-growing list of successful, dynamic, and diverse female artists and musicians defining the current musical landscape. Let's hope that albums like Sucker—with its heady charisma, thrilling glints of past influences, and inspired self-awareness—become the norm.
24 December, 2014 - 04:22 — Luiza Lodder