Music Reviews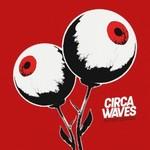 Circa Waves Different Creatures
(Virgin EMI)
Buy it from Insound

In many ways, Circa Waves arrived just a little too late. As the last of the 00's British indie bands dispersed, the Liverpool group emerged with the straightforward Young Chasers, focusing on light, quirky riffs and singalong choruses. It was undoubtedly enjoyable, but it failed to bring anything new to a genre that had reached its saturation point long before. It was anticipated that with their follow up the band would carry on to fit this niche, existing only to fill the holes in festival lineups with nostalgic pop for those who missed (or misses) the boom of guitar-rock. Instead, the Liverpudlians create something much more wholesome.
Different Creatures isn't necessarily a departure, but it is an attempt to legitimise Circa Waves. The guitars have a bit more of a bite, and while the production has been stepped up the band have slowed down. The opening tracks are box standard for British guitar bands, though as the album progresses so do Kieran Shudall's lyrics. While they aren't especially political, they are both socially and self-conscious; and that should count for something. In a genre dominated by love songs, it's refreshing that a young band can place Out On My Own, a song about loneliness, right in the middle of their album. The title track follows, sounding reminiscent of Miles Kane while, surprisingly, referencing the refugee crisis (although the line "20,000 souls are sold tonight, making us their home" seems to be shoehorned in during an interlude.)
That's not to say Circa Waves don't toe the line on some British indie staples. Friday nights, love, and friendship are recurring characters throughout, but while it stays sentimental at least it always feels earnest. There's very little pretentiousness, and while that may mean many of the lyrics are only skin deep, it's difficult not to be swept up with the fun of it all. The actual sound of the album follows a similar pattern: while it's all relatively straightforward, the band demonstrate more variety here than they managed to do on their debut. From the stadium choruses of Wake Up to the stripped back, acoustic Loves Run Out, it seems that the four-piece have made a conscious effort to grow as a band. The more refined, focused production only enhances this new range of songwriting. One of the album's highlights, Goodbye, sounds cinematic, with the buildup focusing on the crunch of the guitars, with the chorus almost rushing past. It's more reminiscent of an Editors song than their earlier influences, but it's a style that the band have no problem replicating.
For all the effort to change, the most important thing stays the same - it's another fun record for Circa Waves. The band show that even as they try to take on loftier topics, in their heart they are still the same band that earned them so much hype around the release of Young Chasers. Different Creatures is likely to prove too nostalgic to win over critics of 00s 'indie landfill', and Circa Waves still lack the spark that is going to reignite British guitar rock, but that won't matter for most fans of their debut. .This is another exciting, polished album that's destined for outdoor stages.
21 March, 2017 - 00:26 — Matthew Smith