Music Reviews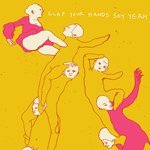 Clap Your Hands Say Yeah Clap Your Hands Say Yeah
(Self-released)

Don't be too upset if you still haven't heard of Clap Your Hands Say Yeah. They're unsigned, they don't get any airplay and you can only buy their album (self-released, natch) online. But this ingenuous Brooklyn fivesome has managed to make quite a name for itself, garnering some serious attention from the indie rock big shots and music fans alike. They're even lining up an impressive set of tour dates, opening for the likes of Devotchka, Songs:Ohia and the National. And they're so fucking endearing, you'll want to pinch their cheeks and hand them fistfuls of money. Until they stop shopping for a label, anyway.
Oh, yeah. They're also really, really good. A little Arcade Fire, a bit of the Unicorns, kind of Neutral Milk Hotel about the vocals. The lyrics are almost entirely unintelligible, but the few "liner notes" (as it were) for the freebies on their site give us a smattering of gems: "Time has gotten by on alibis and wine," "You talk like a noose," "The ravaged cabbage drifts on dark red skies." So, so true. Okay, so it's not quite enough to go on, but at least it will allay any fears of sub-par, hokey writing.
The record (collection of songs?) begins with a crazy carnival caller and his lethargic back-up singers telling us to clap our hands (yeah!) to the thump of a bass drum and the tinkling of a glockenspiel. Reminds me a bit of Tom Waits, except for the whole macabre, serial-killer vibe he has going. It's hard to pick a favorite from the rest, the "real" songs, but there are three that stand out in my mind. They are called Details of the War, The Skin of my Yellow Country Teeth and Heavy Metal, and are conveniently located in three back-to-back slots right in the middle of the album. The first is a slower, more rhythmic number that best shows off the vocalist's unique dissonant croons. The second, more upbeat and with a few very catchy bass and guitar lines, seems like it would be a great hit at live shows. It's difficult to listen to it without picturing a few bouncy hipsters in the front row, no longer able to keep it to just foot-tapping and head-nodding. Last but not least, Heavy Metal, my personal favorite and, though I'm ashamed to admit it, probably the poppiest and catchiest of all the songs on this album, is grungier, louder and certainly dancier. I look like a fool trying to sing along to it, mostly because I have absolutely no idea what they're saying, and it kind of just comes out like yodeling. In any event, it makes a great climax to this trio.
...Holy Christ, I think I just described three songs by a completely new, unknown band the same way most people would talk about the medley on Abbey Road. That means it must be good, right? Moving on.
What follows is a pretty instrumental and a few more tracks that do their best to show off this band's immense capacity for variety and stylistic range. It's a little sad when it's all over, but if you leave it on loop, the magic never has to end. I can see your raised eyebrows, I can tell that you are dubious, but I can assure you, gentle listener - these are the goods. The next time somebody asks you to describe what indie rock sounds like, just point them in the direction of Clap Your Hands Say Yeah. They'll take care of it for you.
9 August, 2005 - 23:00 — Gabbie Nirenburg