Music Reviews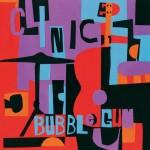 Clinic Bubblegum
(Domino)
Buy it from Insound

Going through Clinic's entire catalogue, it's easy to overlook how the Liverpool foursome has held the reputation of being one of independent music's best-kept secrets. Internal Wrangler, their debut release exactly ten years ago, became an accidental masterpiece by achieving the impossible feat of developing an original voice. Though the new century had brought upon a new outlook for a new generation, courtesy of Kid A's textural post-rock, expectations for the next groundbreaking sound reached sky-high proportions. Like Radiohead, Clinic rose to the challenge by digging on past influences, forming the fragments into unique deformities.
When the world as a whole seemed a bit dourer, Clinic unexpectedly brought some light with a shock full of sense of humor. Instead of approaching isolation and hopelessness through ambient synth lines, they were all about achieving electronic trickery within a conventional rock n' roll format. A welcome dark humor was always accentuated in their live performances and inarticulate imagery. Even the most noticeable touches like wearing Hawaiian shirts brought unease to those they frightened; it was like your Uncle Tom scrubbing up to perform heart surgery on you. But just as they have donned surgical masks for an entire career, their firing barrage of sonic effects began to dissolve to the ears of many. Since then, subsequent releases have brought accusations of a band content embracing a similar formula but with the occasional touch of reinvention.
Nonetheless, the constant metaphor of comparing Clinic's sound as a stick of gum became a clichéd expression. Bubblegum, their sixth full-length effort, holds close parallels in terms of presentation to that first release. Not only does it go back to mirroring the trippy free jazz cover of Internal Wrangler, but also pens an album title suitable for those who've tried to classify them all along. Since their original premise was to protest the idea of being in a conventional band, every new release borders on more free form absurdity with a solid ground for consistency. Bubblegum isn't thoroughly different from the rest of their canon, but it proudly extends their neo-psychedelic tendencies.
Even if not evidently noticeable, much of Clinic's punk thrash has been quietly replaced with the sultrier and gentle side of classic garage. Tracks like I'm Aware and Baby demonstrate a slower, more mature side, cleaning the production to emphasize the swirling guitars and punchy bass lines. Droning organ keys are kept to a minimum this time around as well; Bubblegum covers it with kaleidoscopic wah-wah guitars and cracking pedaling while Another Way of Giving's Middle Eastern jam serpentines it with a sitar and crescendo acoustic tapping. There's an earthly mystique surrounding Bubblegum's thematic posture: instrumental Un Astronauta en Cielo channels a sensorial trance with nighttime electronics and folksy repetition while Freemason Waltz achieves serenity by slowly elevating into a wash of orchestral strings.
If you've embraced Clinic's reverberating panache for the past ten years, there's no reason to dislike Bubblegum's peculiar fabric. This is the sound of a unit that still has no intention in keeping up with the times, delivering more of what they do best with an already proven track record. Though once again, their acumen becomes their biggest weakness – a batch of new instrumental touches don't make up for a lack of songwriting. Interestingly enough, while a parade of Kid A knockoffs still make the rounds, there's hardly a record that comes close to replicating Internal Wrangler's striking design sketches. And that's nothing to scoff at.
13 October, 2010 - 21:57 — Juan Edgardo Rodriguez