Music Reviews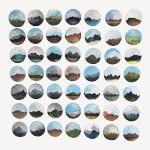 Complete Mountain Almanac Complete Mountain Almanac
(Bella Union)

Complete Mountain Almanac is an ambitious project with quite a backstory. Fifteen years ago, Norwegian songwriter/composer Rebekka Karijord and American poet/dancer/multimedia artist Jessica Dessner met by chance in Brooklyn. They forged an enduring friendship that eventually led to the genesis of this wonderful record - but not without a significant twist.
Karijord initially planned to make a twelve song suite solely about climate change, but Dessner's diagnosis with breast cancer prompted the project to incorporate an additional, much more personal theme: cancer survivorship. Dessner is a fine lyricist and lines like "here she lived, here she is, she's still here" pack quite the punch when you consider her recent illness.
It just so happens that Karijord's voice is the perfect vehicle for Dessner's words. It's delicate, vulnerable at times, but strong enough to soar above the backing track when required (June springs to mind). By the time December rolls around, there's even a hint of defiance evident. Supporting the duo, Dessner's brothers Aaron and Bryce (of The National fame) offer minimalist folk guitar, wisely operating in the background and elevating the material without hogging the limelight. Elsewhere, the Malmö Symphony Orchestra feature on six tracks, including the stunning February, adding sumptuous strings add a sense of scale and drama.
Complete Mountain Almanac is a superficially pretty album, but you'll need to afford it your full attention to unearth its full charms and appreciate its emotional depth. Grab your best headphones and really listen; you'll soon discover there's something very special going on here.
2 February, 2023 - 22:33 — David Coleman